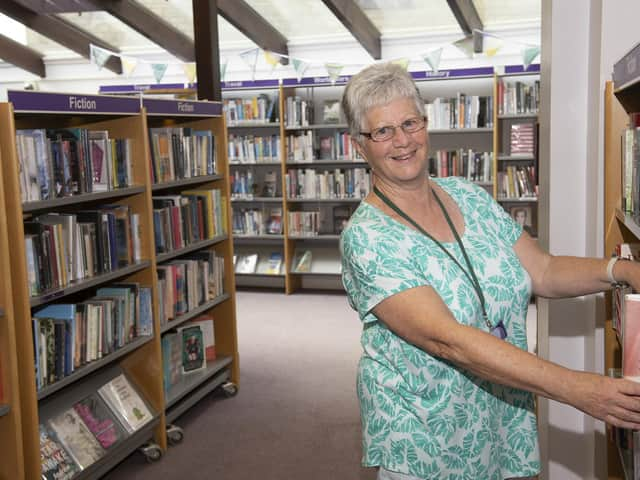 Library volunteer Lesley Bessant ready to welcome browsers back
These include Scarborough, Pickering and Whitby. The move is the latest in the phased return of the county's library services.
From Monday customers will be allowed into County Council-managed libraries to choose their own books.
Arrangements may be different at community-managed libraries, and people should check before visiting.
Numbers allowed into buildings at any one time will be restricted to ensure that social distancing can be maintained.
Customers will be asked to limit their visit to 20 minutes so that everyone has a chance to browse during what are still limited opening hours.
Customers will also be asked to wash their hands on entry.
County Councillor Greg White, executive member for libraries, said: "We have been taking a cautious approach to reopening libraries, with the safety of customers, staff and volunteers at the forefront of our minds.
"We have made changes to the layout of libraries and put in measures to ensure that it is safe for people to return. It isn't the full service that people know and love, but this is the next step towards that. Our customers have told us they are really keen to be able to browse the shelves again and we are very much looking forward to welcoming them back into our buildings.
"We particularly look forward to seeing some of our younger readers. With the popular Summer Reading Challenge running online this year, we have been worried that children haven't been able to get hold of the books they want to read for the challenge. As well as being a lot of fun, reading is so important to wellbeing."
The limited capacity of the buildings means that space cannot yet be provided for people to sit to read newspapers, conduct research or to study.
Since the launch of the select and collect service earlier this month, more than 12,000 books have been issued and since the reintroduction of computer sessions a week ago more than 550 bookings have been taken.
Libraries have been asked by the Government to collect data for the NHS Test and Trace programme.
Derwent Valley Bridge Community Library at West Ayton re-opens tomorrow.
It will be open each Tuesday and Friday from 10am to noon and from 2pm to 4pm when customers can email their requests to [email protected] or telephone 01723 863052 to speak to a volunteer.|
Books will then be made ready for collection usually on the next opening day from the lobby area.
Any returned books should be put through the library letter box.