Life on Stepney Hill Farm during virus outbreak - coping with lambing and helping the community
Life down on Stepney Hill Farm on the outskirts of Scarborough is busier than ever  – Mother Nature stops for nothing including Covid-19.
Monday, 30th March 2020, 1:26 pm
Updated
Monday, 30th March 2020, 1:28 pm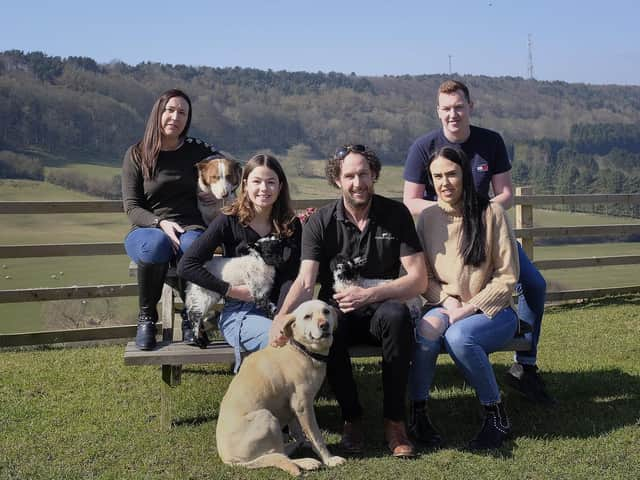 Owner Ashley Tyson and family
Lambing will be occupying farm owner Ashley Tyson 24-7 from the weekend – and that is not counting the deliveries of produce he is undertaking apart as the community effort during the outbreak.
He has more than 600 sheep on the 75-acre holding. There are also cows and pigs.
His butcher shop – run by Connor Gillan and Dave Lovering – has remained open with customers practicing the two-metre rule while queuing.
"They do it automatically now," said Ashley. "What I would say to people is 'Don't panic. We are still open and well stocked."
Ashley and his team which includes his daughter Kaitlyn's partner Robert are making daily deliveries of meat and other produce – driving more than 25 miles per day.
"We are doing everything we can to help those who cannot go out," said Ashley. "They rely on us taking meat and fresh fruit and vegetables to them," he said. "It means a lot more work for us but we are happy to do it."
Ashley has sourced fresh produce from other suppliers including Smarts in Filey.
"That is helping them stay in business," he said.
He is also hoping to expand the farm to grow more of its own produce to help with supply.
The virus has brought change. Stepney Hill Farm is a popular celebration venue including for weddings and several ceremonies have been postponed to a date to suit the couples affected.
The farm tea shop, run by Ashley's wife Nicola, has also closed and is now being used as a base from where deliveries are co-ordinated and answering the constant phone calls for produce.
Their daughter Kaitlyn works at then Ivy restaurant in London and partner Robert works at the Barbican – both of which are closed.
They are now staying on the farm with Ashley, Nicole and their other daughter Isabella.
The popular visits, including schools, to take part in lambing have had to be cancelled.
"This would have been the fourth year of running them and it is such a same we have had to cancel them. The children love it – and for us it is not about making money, it is about education."
Ashley hopes to re-open the farm by June 1 in time for Open Farm events. In previous years Stepney Hill has hosted more than 1,800 visitors..