Marie Curie needs Christmas collection volunteers in Scarborough
The UK's leading end of life charity Marie Curie is calling for volunteers in Scarborough to give just a couple of hours of their time to help bring care, comfort and joy this Christmas by volunteering to collect for its Christmas Appeal.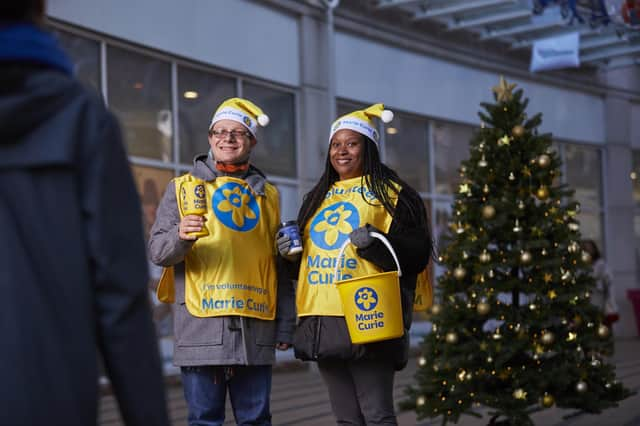 Marie Curie believes everyone experiencing death, dying or bereavement should be able to have the best Christmas possible which is why it is encouraging people across Scarborough to don a festive hat and take to their local high street, Supermarket or Garden Centres to help raise much-needed funds to support people facing the toughest of times this festive season.
The charity is dependent on public donations so that Marie Curie Nurses and healthcare professionals can provide expert Hospice Care at Home, for patients living in Scarborough.
Marie Curie helps people with any illness they are likely to die from including Alzheimer's (and other forms of dementia), heart, liver, kidney and lung disease, motor neurone disease, Parkinsons and advanced cancers.
The money raised also funds the Charity's free Support Line and webchat, which are available to anyone with an illness they're likely to die from and those close to them.
It offers practical and emotional support on everything from symptom management and day-to-day care to financial information and bereavement support.
Amelia Forrest, Marie Curie Community Fundraiser for Scarborough, said: "Last Christmas the generous folk of Scarborough donated £1209.29 and we were incredibly grateful to have 10 volunteers help us raise these much needed funds.
"Christmas can be challenging for many, and we know many homes are affected by the cost of living.
"We appreciate every donation, of any size.
"For families experiencing dying, death, or bereavement, Christmas can often feel overwhelming, so we want to make sure our Hospice Care at Home and free Information and Support services are there to spread care, comfort, and joy for even more people in Scarborough this Christmas.
"If you are interested in helping us, we'd love to hear from you!
"Volunteering is a great way to meet new people in your local area, and to help get you into the Christmas spirit."