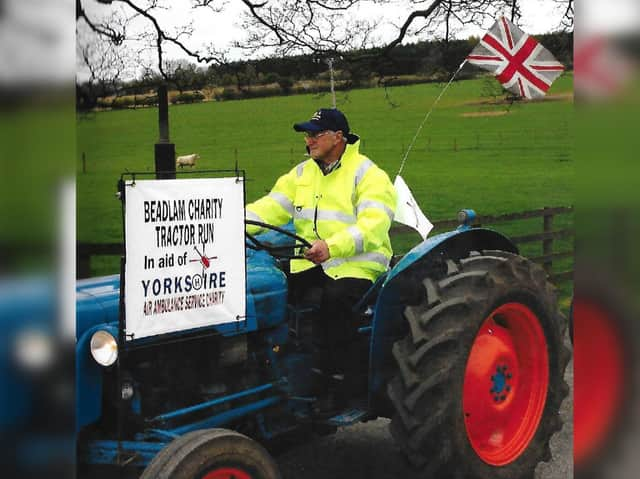 Bernard Simpson
Mr Simpson, a retired builder, was determined to support the Yorkshire Air Ambulance after his family were twice assisted by their services.
In 2003, he founded the 'Beadlam Tractor Run', which is now one of the UK's largest annual tractor runs and has to date raised almost £120,000 for the charity.
From humble beginnings with just 35 tractors taking part, the event which follows a 50-mile route through Ryedale village now attracts over 200 participants.
It is so popular that people travel from places all over the country to take part including Scotland, London, Liverpool, and Hull.
In 2009 Mr Simpson was awarded Fundraiser of the Year by Minster FM.
In 2018, he was honoured by the Yorkshire Air Ambulance by being presented with the chairman's award.
Speaking at the time, Peter Sunderland, Chairman of the Yorkshire Air Ambulance, said: "The Simpson family have raised a phenomenal amount of money for our Charity over the years and I was delighted to award Bernard with the Chairman's Award."
Mr and Mrs Simpson were also invited to attend the Queen's Garden Party at Buckingham Palace for services to charity and in 2018, Mr Simpson received a Points of Light award from the Prime Minister.
In a personal letter to Mr Simpson, then Prime Minister Theresa May said:
"By organising 'The Beadlam Tractor Run' and raising over £100,000 for the 'Yorkshire Air Ambulance', you are supporting a vital service for rural communities.
"You should be very proud of your achievements over the last 16 years and your success in rallying the community around such an important cause."
Mr Simpson leaves behind his much-loved wife Olive, and two sons, Malcolm and Brian.
A private funeral service will take place at St Gregory's Minster, Kirkdale, on Saturday February 27 at 1:00pm.
The cortege will leave Beadlam at 12:40pm and make its way through Beadlam and Nawton to the Church.
Those wishing to park a tractor at the roadside on route to Kirkdale are invited to do so in his memory.