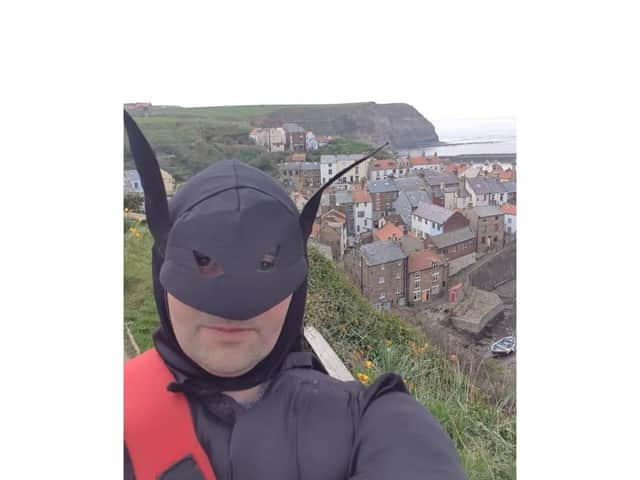 Lee Pearce as Batman
The event was the brainchild of Charltons postman Mark Broughton whose wife and daughter are both nurses.
Staithes postman, Lee Pearce, said: "Everyone is a bit depressed at the moment and we thought that this would cheer people up.
"We had superheroes and all sorts including the Loch Ness Monster and the Easter Bunny.
Jo Alcock as Banana Woman
"We raised almost £900 online and another £400 in cash, £200 just from Staithes.
"I was Batman and Jo Alcock was Banana woman."
Lee said that since the lockdown, he has been busier than he is at Christmas as people are ordering stuff online and getting it delivered.
He said the crisis has really highlighted the value of knowing the people who live locally. He said: "For some of the older residents, I'm the only person that they see.
Staff ready to deliver at Skelton Delivery Office
"Just seeing a friendly face and having someone to speak to. It costs me nothing to spend five minutes talking to them.
"We've been speaking to people today and they've said we should dress up every year. Why not make it a permanent fixture if it raises a few quid for charity?"
If you would like to donate, you can find the Just Giving page here.