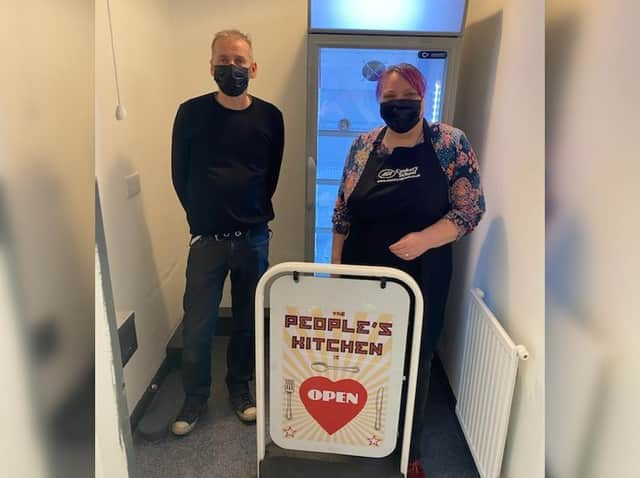 David Owen and Rebecca Denniff at Whitby Community Fridge
The People's Fridge will be part of the National Community Fridge Network and has been set up with the intention of fighting food waste and supporting local people.
Leftover food is collected from businesses and then made available to local residents and community groups.
The fridge is accessible from the entrance at the side of the building, in Presbyterian Yard.
The entrance to Flowergate Hall
It will initially be open between 10am and 3pm on Tuesday, Wednesday and Thursday from March 30, but the hope is that these hours will soon be extended.
Strict monitoring guidelines based on advice from the Food Standards Agency and the council's Environmental Health team ensure the fridge operates to the highest quality standards.
The fridge is just one of a number of exciting initiatives being introduced by Flash Arts Company.
Since taking over the building Rebecca Denniff, her partner David Owen and Joanne Gross have worked incredibly hard to transform the former Sunday School room into a Creative Arts Centre alongside Nessy Williamson, who runs the People's Kitchen pay-as-you-feel cafe in the building.
Nessy, an artist and musician herself, is passionate about food literacy. She believes that it is not good enough to simply give people food, they need to know what to do with it as well.
The group has created a multi-purpose, rehearsal and performance space for music, dance and theatre.
Rebecca said:"Initially we felt that we'd begun at a bad time and we asked ourselves if we really needed that much space? But now, people need space to come together.
"Suddenly having a space that was too big was a Godsend.
L-R - Rebecca Benniff, David Owen, Nessy Williamson and Jo Gross in The People's Kitchen
"We want to provide the room to kick start people's lives.
"Community is at the heart of our vision and values, We want to offer people space for special events. We intend to have proper lighting and staging. We want to offer a full package of art and music education.
"Music tots will begin again on April 12, we have a list of those interested and think we can do it in a Covid safe way and on May 17 the cafe and the building will reopen, providing the road map remains unchanged.
"What we want now is volunteers for a steering group to help us make decisions.
"We'd love volunteers for the community fridge and for local businesses to get on board.
"We're available to anybody who needs a large space. ~