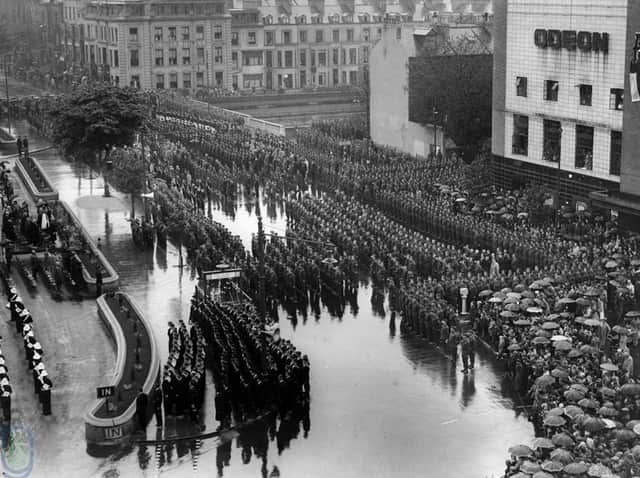 VE Day celebrations in Scarborough in 1945.
North Yorkshire County Council chairman Councillor Jim Clark is driving the celebrations as a central part of his year in office.
Events showcasing memories of VE Day will take place in several libraries, including Scarborough, which will invite older residents to join young people to share their experiences of the war. There will be material from the archives of the County Record Office.
Cllr Clark hopes that as well as celebrating and giving thanks, the anniversary will be a time for people to look forward to a peaceful future.
Cllr Jim Clark, right, with Auschwitz survivor Arek Hersh. Picture: North Yorkshire County Council
"It is not just about celebrating something that happened 75 years ago," he said. "The theme for Holocaust Day this year was Stand Together, and I think this fits well with what we want to do around VE Day.
"I would ask people to stand together in remembrance and thanksgiving, particularly for the many innocent children who died on both sides during the war.
"We can also stand together to fight hate crime and prejudice in all its forms and, thirdly, to build stronger communities. Before the war, a tactic of the Nazis was to divide communities.
"I want towns, villages and districts across North Yorkshire to create their own events during VE Day weekend to remember in their own way."
The VE Day anniversary will be celebrated on May 8, but before that, at Cllr Clark's request, the county council's music service has organised a celebratory concert involving more than 400 children from schools across the county at Harrogate Convention Centre on March 30.
The concert will include music from the County Youth Choir, County Youth Symphony Orchestra, County Youth Big Band and the Army Band, Catterick.
There will also be readings and drama, and Cllr Clark is inviting two special guests: Arek Hersh, a survivor of Auschwitz concentration camp, and Sheila Pantin, who was involved in the British liberation of Bergen-Belsen concentration camp in April, 1945.
Cllr Clark said: "I think it will be a great experience for the young people to be in the presence of a survivor of Auschwitz and someone who was involved in helping people after the liberation of Bergen-Belsen.
"This might be the last opportunity for us to have a major celebration with people who were alive at the end of the Second World War."