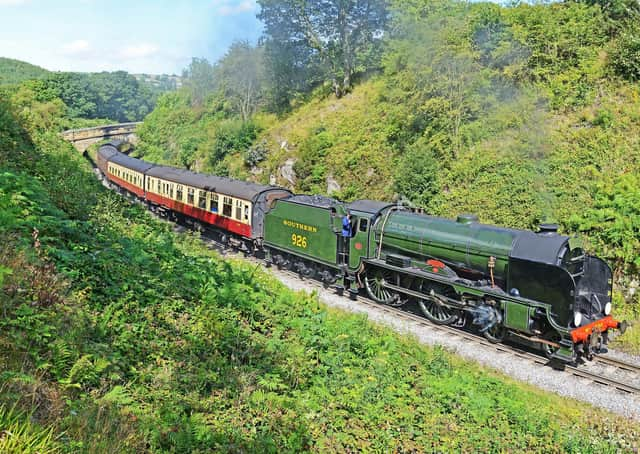 Repton steaming along. Picture John Hunt
Steam journeys will be running seven days per week, with four departures daily from Pickering to Levisham return, and from Grosmont to Goathland return, with a total journey time of circa one hour.
For steam enthusiasts, the locomotives running have been confirmed and will include Southern Railway's former engine, 825, which originally entered service back in April 1927, alongside 926 Repton, which entered service May 1934 and operated at Bournemouth for most of WWII.
Chris Price, General Manager of the railway, said: "We are delighted to be welcoming back passengers, staff and volunteers to the railway.
"It is great to see activity up and down the line, preparing for re-opening on Yorkshire Day.
"During lockdown we have been focusing on our fundraising initiatives and the Welcome Back services are part of the railway's phased re-opening.
"To help support the charity, to ensure it is sustainable for the immediate future, come and travel on a service. Your ticket is a donation and will support not only the railway but the wider community too."
Anyone wishing to visit NYMR once it opens for the 2020 season must pre-book their tickets in advance. These will also be for a specific time slot and journey.
Visitors are able to book a Compartment (max six persons) for £100, a Family ticket table of four for £80, or a Duo ticket table for two people priced at £40. This will ensure social distancing.
Each train carriage will be thoroughly cleaned and sanitised before welcoming its next set of visitors and all stations will remain closed, except to pre-booked guests. A controlled one-way passenger walkway system will be in place alongside a number of hand-sanitising points throughout the NYMR. All guests will be required to arrive through their designated car park, where clear signage and a volunteer welcome team will direct them to the platform.
NYMR originally planned to open early April but as a result of lockdown, has spent the past few months closed to guests, but active behind the scenes with its crisis appeal, that has so far raised £400,000 to help keep the heritage attraction on track. Visit nymr.co.uk/welcome-back .