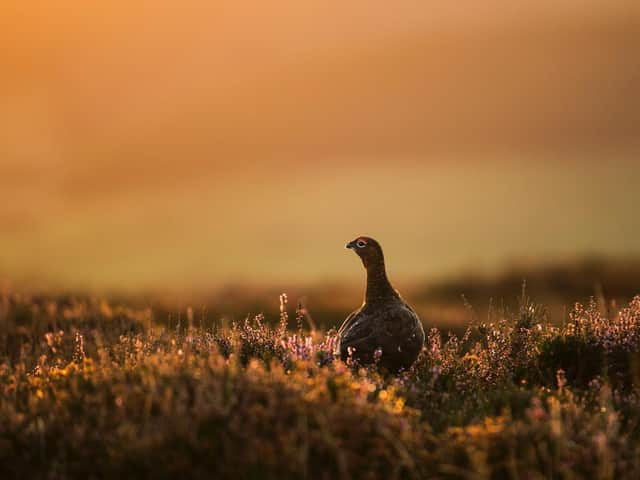 A Red Grouse stands in the heather at sunrise near Goathland in the North Yorkshire Moors (Photo by Dan Kitwood/Getty Images)
The petition, created by campaign organisation Wild Justice whose directors include celebrity TV presenter Chris Packham, was signed by over 111,000 people. It was debated by parliamentarians on Monday June 21.
The large-scale rejection of the petition's motion cited numerous examples of how a ban on grouse shooting would impact on the positive contributions the activity provides to conservation efforts, the local economy, and the socio-wellbeing of those taking part.
Kevin Hollinrake, Thirsk and Malton MP, talked about the well-being of those who visit the "beautiful purple and green-carpeted North York Moors". He said: "Left unmanaged, the moors just would not look like they do today, and visitors would be far less likely to come."
Robert Goodwill, Scarborough and Whitby MP, highlighted the fragility of the moorlands in his constituency in the North York Moors and how it requires management through predator control and rotational burning.
Richard Holden, North West Durham MP, focused on grouse shooting's impact on rural communities. He said: "It is not just about the shooting itself and the gamekeepers; it is the huge amount of part-time jobs in the season and the huge amount of trade that comes with the industry, particularly for my hospitality sector."
In a blog on their website Wild Justice accused the Conservatives of 'wilful blindness'.
They said: "Conservative MPs are wilfully blind on economics – many said how important grouse shooting is to local economies but took no account of the impacts of flooding, water treatment or greenhouse gases on the wider economy.
"Many MPs spoke about the skies being darkened by vast flocks of raptors as they visited the moors with friendly gamekeepers. Kevin Hollinrake and Robert Goodwill both hail from the North York Moors which is a bit thin on nesting Hen Harriers.
"Indeed the study using Natural England data, by Murgatroyd et al shows that the North York Moors NP is the most dangerous place for Hen Harriers to go of all English upland, so-called protected, areas.
"If you are a Hen Harrier, your risk/day of death or sudden disappearance is higher in the North York Moors National Park than anywhere else."
Rebecca Pow, Parliamentary Under-Secretary of State for Environment, Food and Rural Affairs, responded on behalf of the Government saying that: "There is a great deal of strong feeling about the issue. By managing those moorlands to create the optimum habitats for grouse, land managers can play a really strong role in conservation."