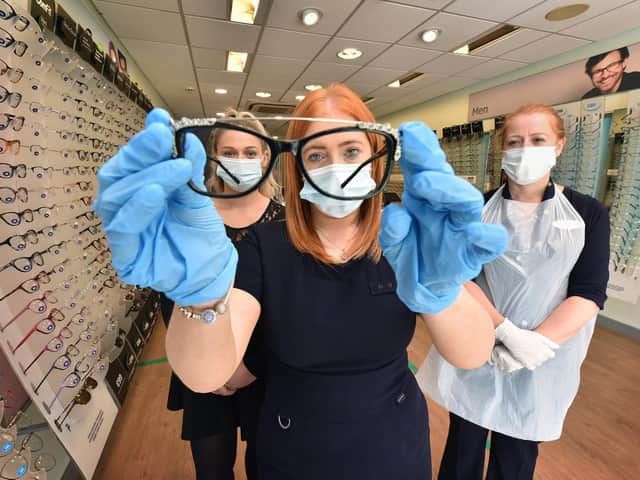 Staff Melissa Neal, Siobhan Rowley, and Sam Jenkins at Specsavers
Employees are wearing PPE and social distancing measures are in place at branches of eye specialists.
Vision Express in Westborough are open for emergency and essential eye work only. That is if glasses have been broken or for prescriptions for spectacles needed for work.
Pagan and McQuade, also in Westborough, is also seeing those in need of emergency work.
Specsavers in Westborough like the other specialist have remained open for key workers have also now opened up services for other essential work.
A spokesman for Specsavers said it can now care for more priority customers face-to-face, in line with sector guidelines.
"Customers booking an appointment online will be contacted by their local store by phone to discuss their sight concerns and make sure that coming in to store for a test is the best option for them.
"If significant and serious deterioration of vision has been experienced recently by anyone, Specsavers still recommends phoning a local store immediately as it may need a more urgent store visit to undertake testing and investigation," said its statement.
Optician customers wanting a routine eye test but not experiencing any changes to their sight currently will have to wait a little longer, as stores focus their attention on those with more immediate needs.
Clinical services director at Specsavers Giles Edmonds says: 'During lockdown many of us have been spending more time looking at screens, reading, or watching TV, which is likely to make people more aware of pre-existing sight conditions or the fact that their prescription may have changed.
Anyone who feels that they have seen a change in their sight during lockdown or since their last eye test to book an appointment onSpecsavers website.
If deterioration of vision is serious, Specsavers still recommends phoning a local store.