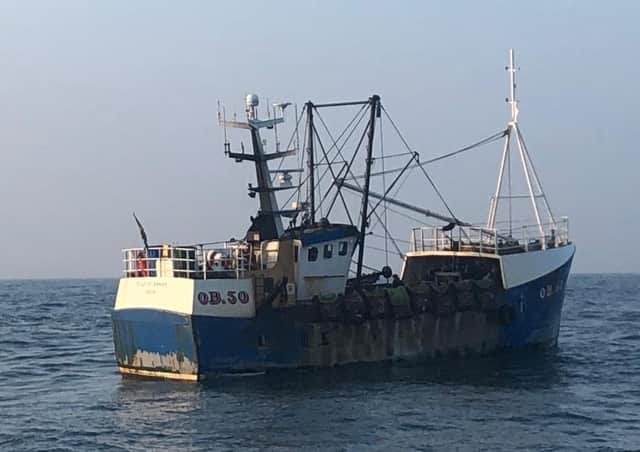 The Star of Annan OB 50. Photo submitted
Company owner of the Star of Annan OB 50, John MacAlister (Oban) Ltd, of South Pier, Oban and master of the vessel, Alec Murray, of Upper Bayble, Isle of Lewis, both appeared at Scarborough Magistrates' Court on Tuesday, April 6 for sentencing, having admitted the offences at a previous hearing.
The company's owner was fined £180,000, and has to pay £7,000 costs and £170 victim surcharge while Murray was fined £2,908, has to pay costs of £555 and a victim surcharge of £170.
MacAlister also appeared as a director to represent Q Varl Fishing Co Ltd, The Terrace, Torquay, which was fined £15,000 and has to pay costs of £2,140 and a £170 victim surcharge relating to two similar offences which were committed by the fishing vessel Q Varl BM 29 between 27 May and 4 June, 2019.
The prosecution was brought by the North East Inshore Fisheries and Conservation Authority (NEIFCA) following significant patrols and enforcement efforts.
The court heard how the 10 offences, which had between March 4 2019 and May 28 2019 off the coast of Robin Hood's Bay, included operating in a closed season, using scallop dredges, failing to operate a fully functioning vessel identification system as well as landing undersized scallops.
The magistrates found that there had been a deliberate failure to put in place and to enforce such systems as could reasonably be expected to avoid commission of the offences.
David McCandless, NEIFCA chief officer, said: "We have worked incredibly hard to manage and police the scallop fishery in the North East to ensure its sustainability, protect co-located static gear fisheries and to minimise impacts on the marine environment.
"These prosecutions should send a very clear message that the courts take marine conservation and the sustainable harvesting of shellfish very seriously and the outcome is a recognition of the important work that inshore fisheries and conservation authorities do."