Part of Cinder Track near Whitby closed for two weeks so delayed work can be completed
Part of the Cinder Track near Whitby has been closed approximately two weeks to allow for the completion of resurfacing works delayed by the coronavirus pandemic.
By
Carl Gavaghan, Local Democracy Reporting Service
Wednesday, 22nd July 2020, 2:44 pm
Updated
Wednesday, 22nd July 2020, 2:46 pm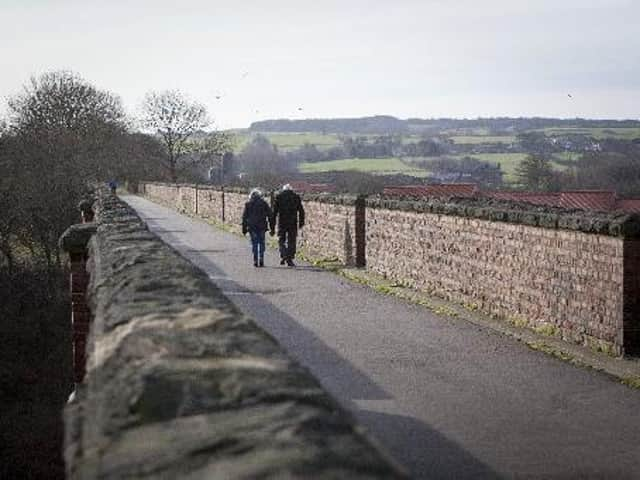 The Cinder track crosses over Larpool viaduct.
The temporary closure affects a 2km stretch of the track between Larpool Lane, south of Larpool Viaduct, and the public footpath to the east of Broomfields Farm.
Scarborough Council has announced that remedial work on adjacent verges will also be completed at the same time, but may take a few days longer to allow for ecological supervision.
An alternative route for pedestrians from the Stainsacre end is possible via the Monk's Trod public footpath and back onto the A171 near to Sainsbury's supermarket.
Cyclists and horse-riders are not permitted on public footpaths so will have to end their journey at Broomfields Farm or divert before reaching that point onto the A171 via Scraper Lane, Stainsacre.
Local signage advising of the closure and diversions have been put in place.
Previous work carried out in early spring, prior to the peak of the coronavirus restrictions, included a wide tarmac surface from Larpool Viaduct to the end of the track at Beevers furniture store.
This stretch of the former Scarborough to Whitby railway line remains fully open during the current works.
Paul Thompson, Scarborough Borough Council operations, transport and countryside manager said: "We appreciate the positive feedback we've received so far on the substantial improvements made to the track earlier in the year, which many users have already benefited from.
"We are pleased that our contractor has now been able to restart work and we ask users to bear with us while the job is completed."
Additional work is planned for the Whitby to Hawsker stretch of the track to improve signage and access, as well as environmental enhancements such as bird and bat boxes.