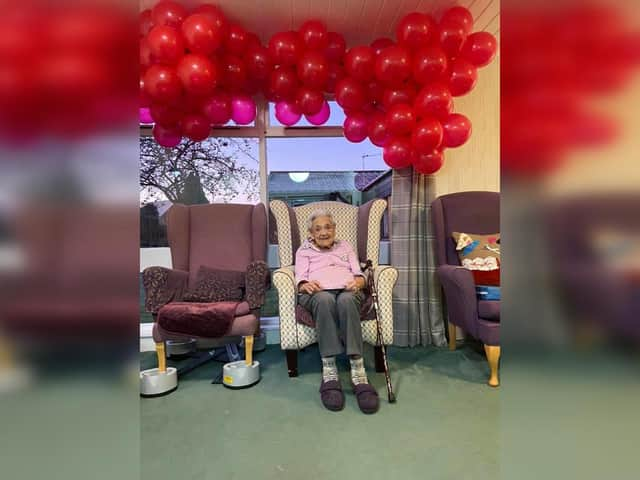 Sylvia surrounded by 99 red balloons on her birthday last year.
The care home, known as 5 Whitby Road, had been planning much more elaborate celebrations, but these have been curtailed by the current coronavirus lockdown.
Sylvia was born in Bramley, Leeds on January 21, 1921. She grew up in Pudsey and spent her early working life in one of the local mills before transferring to the Avro aircraft factory at Yeadon (now Leeds Bradford airport ) where she worked on the pilot seats for Lancaster bombers.
She married Harry Halliday, a cricketer who played alongside the great Len Hutton for Yorkshire, on January 10, 1942 at St. Lawrence Parish Church, Pudsey.
After running a newspaper shop in Pudsey, the couple moved to Scarborough around 1958 to run a small private hotel. They managed the hotel until 1967 when Harry sadly passed away aged 47.
From then Sylvia worked as a cook at a NYCC children's home, various guest houses, and Boots the Chemist.
Her 100th birthday will not be the celebration family and friends had originally planned.
Care home manager Jodi Taylor said: " We were going to have ballroom dancers in, but obviously, we can't do that now. But we are trying to make it a bit better for her.
"People have been brilliant, we've got afternoon tea and birthday cake donations and the birthday cards are already arriving.
Last year Sylvia celebrated her birthday with 99 red balloons, this year, staff are hoping she will receive 100 birthday cards. Jodi said:
"When we told Sylvia that we'd sent the message out and showed her the birthday cards that had already come in, she shook her head, smiled and said: " I can't leave you lot alone for five minutes!"
"We would absolutely love for her to receive 100 birthday cards and are asking for the community spirit to pull together and make this possible for her.
"Please help us to achieve this and give her an extra special day to remember and post a card for Sylvia to: