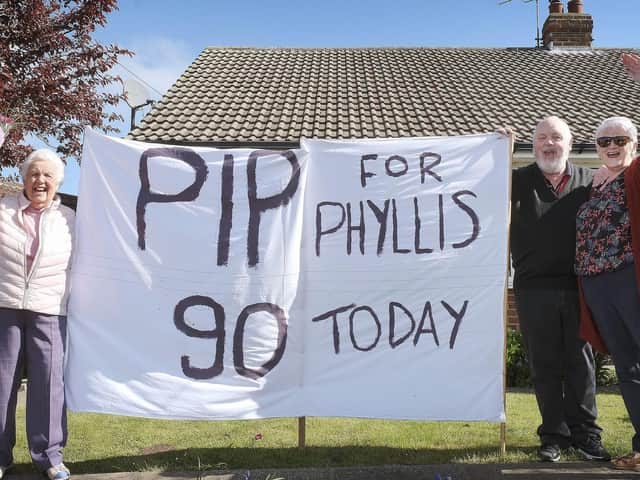 Phyllis Watson of Cayton celebrates her 90th birthday with Son Keith Watson and wife Sue
As a surprise, they put up banners in the garden of her home in Main Road, Cayton, asking drivers to 'Pip for Phyllis'.
Members of the family also delivered flowers and a home-made cake which celebrated Mrs Watson's love of flat green bowling.
Mrs Watson has two sons, Keith and Barrie, four granddaughters Lisa, Jessica, Harriet and Lucy, two grandsons Craig and Jake, a great granddaughter Evie and a great grandson Sonny.
Phyllis Watson with flowers
Harriet made a video of her grandmother's life and shared it with the family as part of the celebrations.
Mrs Watson was a telephonist before running a fish delivery business with her late husband Derek. The business Albert Sutton was then run by Barrie, who lives with his wife Caroline in Scarborough, until three years ago.
"We were going to have a party for 80 family and friends at the Palm Court in Scarborough but that, of course, had to be cancelled," said Keith who lives in Cayton with his wife Sue.
Barrie said: "She is remarkable, she still insists on driving even when her grandchildren want to take her out.
Phyllis Watson in her 90th birthday special T-shirt
"She ten pin bowls each Monday, plays contract bridge twice a week, bowls twice a week and attends a quiz at indoor bowls club each week."
As for her reaction to the surprise gift, Barrie said: "For the first time in her life she was speechless.
"She was bitterly disappointed that we had to cancel our party and in the previous few days she had got short-tempered about everything.
"Then the grandchildren organised afternoon tea which we all shared on Houseparty and tonight we are having a fish and chip supper and a Houseparty family quiz again all organised by the grandchildren," he said.
And the pipping ... "It's been nonstop. Constant pipping and residents using their exercise time to walk past," said Barrie.