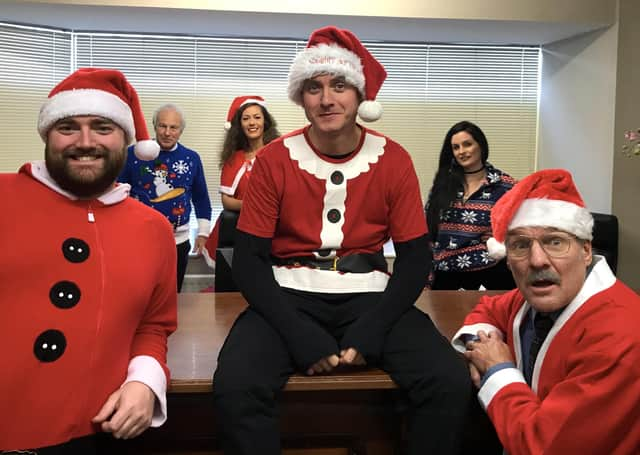 Some of the cast of sitcom Briefs, which filmed scenes at Osmotherley.
The filming, for a show entitled Briefs, even features one of the shop's well known faces in one of the scenes.
Briefs is a sitcom which is based and filmed in Redcar.
It revolves around the day-to-day life of a 'not so average' High Street legal practice which is ridiculous, chaotic and altogether mixed up.
The production crew at Osmotherley's 'Top Shop'.
Briefs was written by actress, writer and qualified barrister Teresa Taylor who lives in Osmotherley with her husband Johnny and her two children Elodie, 12, and Innes, 9.
Teresa grew up in Redcar and she credits working as a barrister as giving her the inspiration and material to write the show. Teresa said: "The characters and situations that appear in the show have been rooted in my experiences. Though they are somewhat exaggerated, it's safe to say that many professionals – regardless of industry – will recognise their own experiences being reflected in the show."
Top Shop owner Andrea Shelley said: "When Teresa approached me, we were more than happy to help one of our regular customers and flattered to be asked as new owners of the shop.
"The day of filming was good fun and my son Charlie enjoyed his first on-screen acting experience! We look forward to seeing the outcome."
Teresa has taken the unusual step of allowing the public to view Episode 1 in an exclusive online Christmas screening for ticket holders only.
Tickets for this event are available at briefspremiere.eventbrite.co.uk where people can view the show in the comfort of their own home.