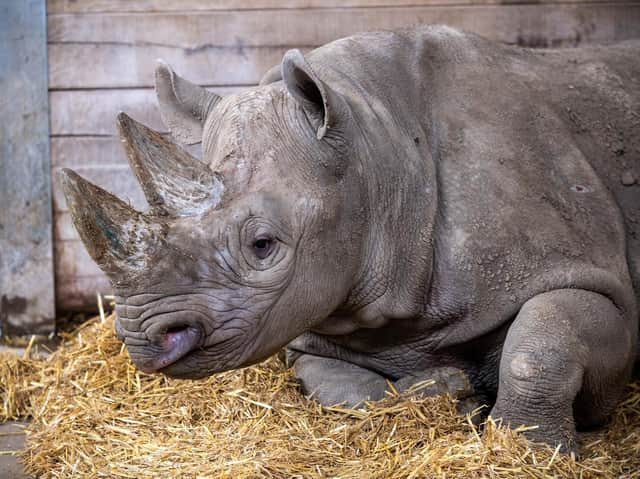 Chanua will spend a month getting accustomed to her new diet Pic: Bruce Rollinson
For the second time in two years Flamingo Land is contributing to global efforts to increase the world black rhino population.
The release of gentle giant, Chanua, comes after three-year-old Olmoti travelled to Rwanda's Akagera National Park last summer.
Eight-year-old Chanua, who is now of breeding age, was selected on the basis of her blood groupings by the stud book keeper for all rhino collections in the UK.
Chanua had been at Flamingo Land since 2015. Pic: Bruce Rollinson
She will be transported by plane on a 12-hour flight to Udzungwa Forest Project, Tanzania. Once she has arrived, she will spend around a month getting used to local food before she is released.
Chanua was born in Chester Zoo in 2012, and transferred to Flamingo Land in 2015.
The resort's owner Gordon Gibb said: "Chanua's keeper Sam de Belle said ideally she would be the last one she wanted to return to the wild - she is such a lovely individual, very playful and extremely placid - but the greater good comes first.
"We are absolutely delighted to be involved with this and it is a testament to the hard work of the keepers and the company's mission statement."
Chanua will travel 7,000 miles to Tanzania. Pic: Bruce Rollinson
Chanua's return to Tanzania is part of a concerted international effort to increase the world black rhino population.
The World Wildlife Fund states of their website that: "Black rhinos are the smaller of the two African rhino species. Populations of black rhino declined dramatically in the 20th century at the hands of European hunters and settlers.
"Between 1960 and 1995, black rhino numbers dropped by a sobering 98%, to less than 2,500. Since then, the species has made a tremendous comeback from the brink of extinction.
"Thanks to persistent conservation efforts across Africa, black rhino numbers have doubled from their historic low 20 years ago to around 5,600 today.
Chanua with keeper Sam de Belle Pic: Bruce Rollinson
"However, the black rhino is still considered critically endangered, and a lot of work remains to bring the numbers up to even a fraction of what it once was—and to ensure that it stays there.
"Wildlife crime—in this case, poaching and black-market trafficking of rhino horn—continues to plague the species and threaten its recovery.
Mr Gibb said that coronavirus travel restrictions mean that he is unable to accompany Chanua on her journey.
However, he was able to witness the emotional release of Olmoti last year.
He said: "It was the culmination of my life's work. We were pretty proud of ourselves that day."