Remembrance Day: Changes made to parade in Bridlington
Bridlington Town Council have made changes to the Remembrance Day service parade.
Wednesday, 6th November 2019, 8:41 am
Updated
Thursday, 7th November 2019, 2:04 pm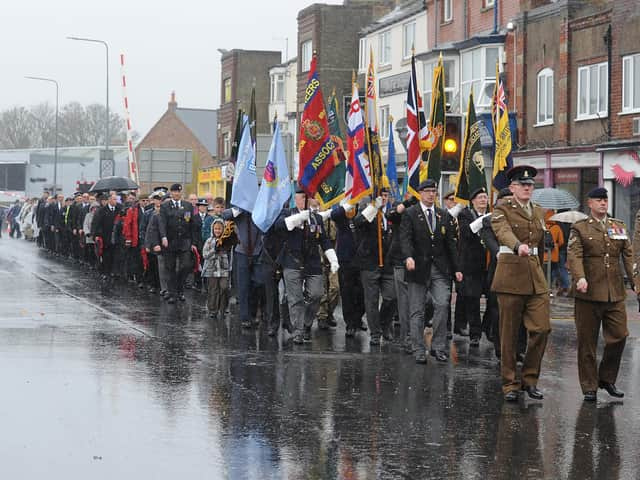 Image from last year's parade
Commemorations will begin at 11am on Sunday November 10 at Bridlington War Memorial.
Due to the ongoing roadworks at the train station this year's parade will assemble and step off from Hilderthorpe Road Coach Park.
Anyone participating in the parade is asked to assemble at the Hilderthorpe Road side of the Coach Park from 10am and no later than 10.20am.
Residents are reminded there is no access to Station Approach.
East Riding Libraries also want to raise awareness of the military community in the area and are hoping to share stories from military personnel past and present on their website and social media channels.
On Monday, November 11, 9.30am-1pm, at Bridlington Library there will be an opportunity to tell a short story in person or online about time in the military. It can be from those who served, those who are still serving, partners, children, extended family, or family history. It could be just a picture and a short story of someone's medals.
Gary Smith, digital services officer (libraries) at East Riding of Yorkshire Council, said: "Whether you are currently serving, a veteran, a friend or family member, please come along, pull up a sandbag and tell us your story. No topic is out of bounds; both funny and serious are most welcome."
Librarian Sarah Hutchinson added : "East Riding Libraries want to raise awareness about the local military community. We hope to share your stories on our website and social channels. Whether you are currently serving, a veteran, a friend or family member, please pull up a sandbag and tell us your story.
"This activity is for everyone, it doesn't matter if you served in the armed forces or not. I know if you really thought about it you will have a story to tell, so please consider getting involved: Great granddad's war service.
"Who do you think of at 11am on the 11th November? Was your Mum or Dad in the armed forces? What was it like for you? Do you support the armed forces in any way? Were you in the armed forces yourself? How have you found 'civvy street?'
There will also be a large exhibition of Bridlington war damage photographs, from World War Two, at the library. where you see our town in a totally different light.
"Our display cabinet also has a display of women and the home front in Bridlington and the East Riding. The display is provided by Sewerby Women's Institute and will show the town in a totally different light," she added.