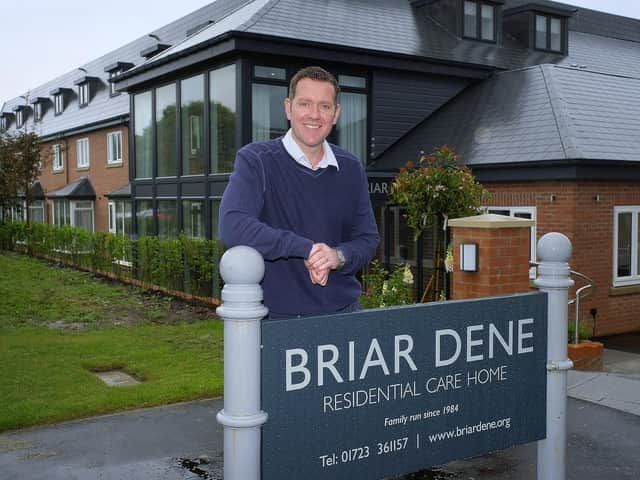 Mark Kelly outside Briar Dene in Burniston Road, Scarborough
John Kelly and his son Mark who have run Briar Dene on Burniston Road in Scarborough for more than 35 years took the decision several years ago to invest in a new purpose-built home.
Designing a home that was a little different to other care homes was a prime objective of theirs and both the exterior and interior design of the new home certainly has a contemporary feel to it with its large glazed areas and Scandinavian inspired décor.
Facilities at the new home include hairdressing salons, a library, dining rooms, a panoramic sun lounge on each floor and many more features including a garden room, bringing the outside in even on dull winter days; all designed with the comfort of residents in mind.
The new home has 62 spacious bedrooms all with en-suite wet rooms and it is set within landscaped gardens with accessible outside areas for residents to enjoy.
The new home has also been designed with sustainability and energy efficiency in mind. The building is fitted with triple glazing, heat recovery ventilation systems and integral to the design are concealed photovoltaic panels generating a significant proportion of the required electricity and a rainwater harvesting system.
Briar Dene Residential Care Home will provide residential care for older people as well as end-of-life and physical disability care for people in the North Yorkshire and particularly the Scarborough area who need more support and on-hand care twenty-four hours a day.
Mark Kelly commented "We believe the life of residents living at Briar Dene should include the best possible care, great food and all enjoyed in the best environment. Our well-qualified and experienced care team will devise a bespoke care plan for our residents and provide care to everyone in a professional and considerate manner and hopefully this will enable them to carry on doing the things they have always loved".
To enquire about the care services available and to discuss the care options for new residents, please contact Mark Kelly and the Briar Dene care team on 01723 361157 or contact them via https://www.briardene.org/ and they will be happy to assist.