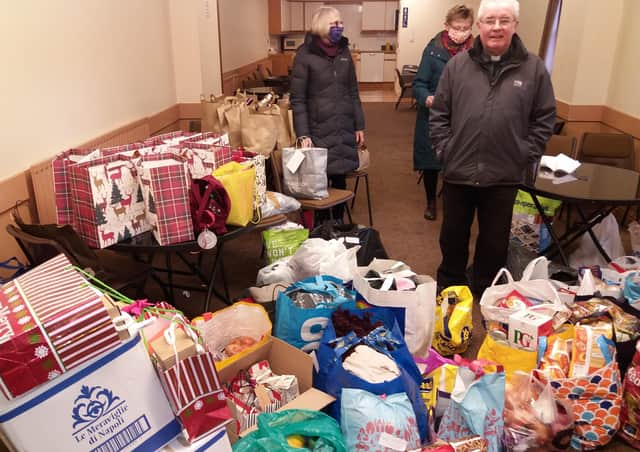 Father Pat Keogh said the huge amount of donations show that the true spirit of Christmas is alive and well in Whitby.
Fr Pat said the response was fantastic as people donated various food along with toiletries and gifts to support refugees and asylum seekers.
The appeal was supported by many local groups with Goathland residents and the food bank contributing items.
Earlier this month, a group of former asylum seekers sorted out the mountain of donated food, along with toiletries and gifts, and distributed 50 bags to families and individuals.
Fr Pat said: "They have been doing the same with the clothes and bedding.
"Like us, they were overwhelmed by your generosity.
"The covid virus has made it impossible to host the group this year so, as a parish, we decided to make a Christmas appeal for food, toiletries, gifts and warm clothing.
"The response has been overwhelming, not just from our regular supporters, but also from the community of Goathland who have inspirational leaders.
"The food bank also kindly donated some items.
"Many individuals have responded with generous monetary gifts, which will be welcomed, especially by those who have no access to cooking facilities or enough money to put on heating.
"So many, from all walks of life, have come together to reach out and make this possible, even in these very difficult times.
"The true spirit of Christmas is alive and well in Whitby. A Huge Thank You to You All."