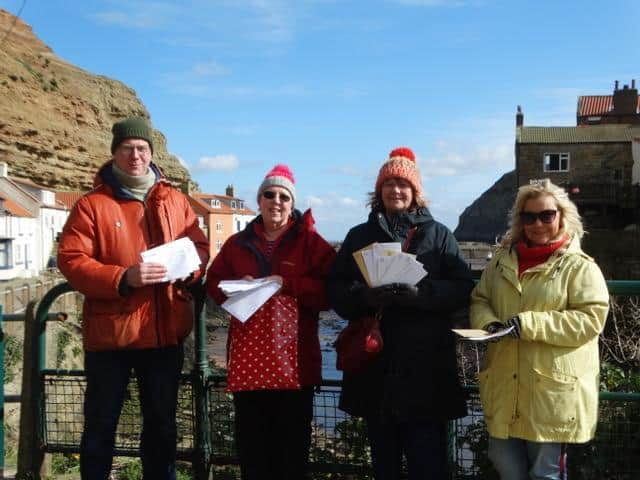 Staithes residents are campaigning to save the villages postal workers: L-R: Mike Floate, Hazel Hickman, Jo Floate, Christie Rogers
A spokesperson for the group said they remain concerned that the regular two postal workers are due to be replaced with staff unfamiliar with the local area.
The "Save our Posties" Facebook group, set up on Saturday March 7, swelled to over 400 members in just one week with feelings of anger and disbelief expressed by members.
Robert Goodwill, MP for Scarborough and Whitby, said: "I understand that these two posties are well regarded.
Residents outside the former Staithes Post Office
"I'm not party to [The Royal Mail's] internal structure and what the trade union situation is, but I can absolutely understand why people want to keep their postmen.
"These postmen will be aware where older and vulnerable people are. There are houses where they will expect mail to build up, but others where if it is not collected they know to raise the alarm."
Letters were written by members expressing their concerns and delivered by hand to the Royal Mail's Skelton Depot.
A spokesman for the group said: "With COVID-19 Coronavirus having recently been declared to be a pandemic, it seems more relevant than ever that the Royal Mail works with communities to keep highly competent and familiar faces on postal rounds."
In a reply to an email sent by a group member, a Royal Mail spokesperson said: "I am terribly sorry for the distress and concern had by yourself and the community, regarding the relocation of your regular Delivery Officers.
"It is always good to hear that our postmen and women are appreciated for the work they do and their involvement in the communities they serve.
"I have been in touch with the Skelton Delivery Office Manager, who has confirmed that the office is undergoing a revision.
"This is done to ensure that all of the mail is delivered as efficiently as possible. It involves all of the personnel who work from Skelton Delivery Office.
"I am sorry, but it is not possible to make one delivery duty an exception to this revision.
"When we make delivery route changes we have to allocate them based on seniority.
"This is something that has been agreed between Royal Mail and the Communication Workers Union, who represent our people.
"We have no mechanism to override or change this process. We do however aim to make any delivery changes as seamless as possible.
"The local team will work very hard to ensure that the new Delivery Officers performing deliveries will do so with the same high quality and regard as the previous Delivery Officers have clearly done in the past.
"I realise the disappointment my reply will cause you, but may I reassure you that the change processes are done to maintain the quality of the mail deliveries.
"The replacement Delivery Officer's will be fully trained in the route and the requirements needed.
"I am sure that the reliable, trustworthy and high level of customer service previously provided will be maintained."
A representative of the "Save our Posties" campaign said: "The villagers feel that their needs are not being considered and so are even more determined than ever to arrive at a sensible conclusion to this unhappy affair.
"We believe that the Communication Workers Union is likely to recommend to the Royal Mail their members could be used as fifth emergency service, as they have the network in place to access every household in the UK and could therefore deliver medicines or foodstuffs to people self isolating in outlying areas."