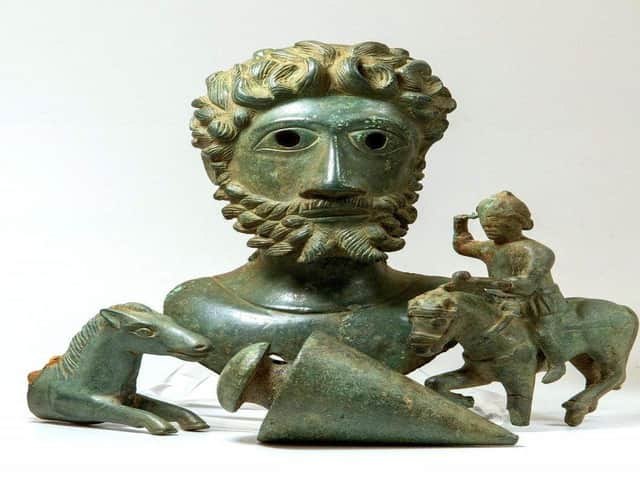 The incredible Roman bronzes discovered in a Ryedale field. (Photo: Hansons)
The four incredible bronze artefacts, which have been hailed as 'nationally important', were found by the treasure hunters last May in Ryedale.
Auctioneer Charles Hanson took the auction from his Derbyshire auction house, streaming the event live online due to the pandemic.
Mr Hanson said the sale was "an extraordinary result".
Bust of Roman Emperor Marcus Aurelius. (Photo: Hansons)
"It was an honour to auction these fascinating historical items – antiquities which had not been seen for 1,800 years."
The collection is known as the Ryedale Ritual Bronzes and includes a well-preserved bust of the Roman Emperor Marcus Aurelius.
As well as the bust, which would have been mounted as the head of a priest's sceptre, the hoard contained an equestrian statuette of the God Mars, a horse head knife handle and a large bronze pendulum.
The bidding opened at £50,000 and a flurry of bids quickly saw the asking price soar. Three phone bidders and "strong" online competition were soon bidding in excess of £100,000.
The collection eventually sold to a London phone bidder for £185,000, more than double its top estimate.
The lot attracted considerable worldwide interest with bidders tuning in online from the USA, New Zealand and Hong Kong.
The items were found by James Spark and Mark Didlick, who will split the proceeds of the sale with the landowner.
Adam Staples, Historica expert at Hansons Auctioneers, said the hoard of artefacts had probably been buried as a religious offering and that he was "thrilled" for the finders and landowner.
"A religious offering which marked the closure of a rural shrine or the death of a priest," Mr Staples said. "The artefacts would have formed a suite of ritual implements, to be utilised when performing religious ceremonies and for predicting the future."
Upon its discovery, the hoard was taken to York Museum and recorded through the British Museum's Portable Antiquities Scheme, which records the discovery of archaeological objects found by members of the public.
Mr Staples said: "He [Aurelius] is indeed very lucky not to have been broken by his 1,850 years spent underground. The bust has survived extremely well and is in very fine condition with a glossy green patina. This auction provided a very rare opportunity to own a nationally important group of artefacts."