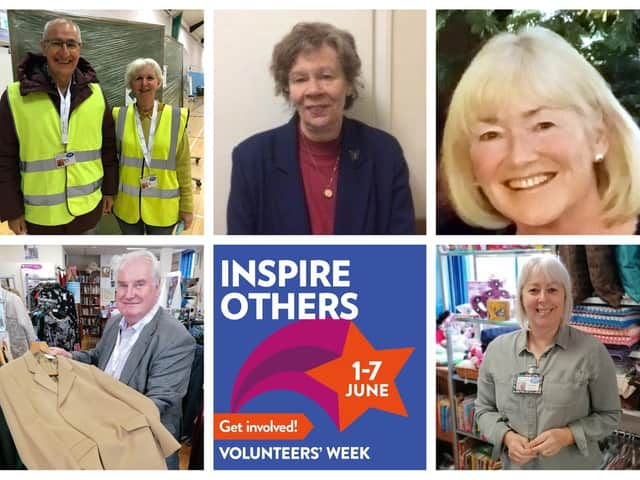 Some of Saint Catherine's Hospice volunteers
With more than 500 volunteers across the organisation, Saint Catherine's has an incredible amount of support in many different areas, such as charity shops, reception, fundraising support groups, bereavement support and much more.
If paid, the contribution that volunteers make towards the charity would come to well over £1m a year.
The past year has been an exceptionally difficult time for all charities – and Saint Catherine's is no exception.
Despite restrictions placed on everyone's lives due to Covid restrictions, certain volunteering activities have been able to continue and have made a huge difference to our local community.
For example, Saint Catherine's volunteers were drafted in to act as volunteer marshals at the Covid vaccination centre at Scarborough Rugby Club, playing a key part in the vaccination effort.
Volunteers have also returned where possible across the charity's 11 shops, adapting to new methods of working with PPE and Covid safety guidelines.
The board of trustees, who govern Saint Catherine's, are also volunteers and give their time freely.
Mike Wilkerson, chief executive at Saint Catherine's, said: "We would like to say a huge thank you to each and every one of our volunteers for the amazing contribution that they make to the charity. We simply could not do what we do without them.
"It has been such a difficult year and we have missed being able to see all of our volunteers, but we are really looking forward to welcoming everyone back when it's safe to do so."
If you would like to find out more about volunteering at Saint Catherine's, please go to www.saintcatherines.org.uk/Volunteer/ or call (01723) 351421.
There are currently vacancies for shop volunteers, a volunteer eBay assistant and a volunteer van driver.
Visit www.saintcatherines.org.uk/Vacancies/ for more details about the eBay and van driver roles can be found
Mike and Jill Gould – vaccine volunteers, Scarborough
Mike and Jill Gould, of Seamer, started their roles as vaccine volunteers in March, after Saint Catherine's was invited to provide volunteer marshals for the Covid vaccination centre at Scarborough Rugby Club.
Jill said: "We wanted to feel useful and be able to help out.
"This was a way of giving back and we're both retired, so we had the time.
"Everyone has been so friendly and everybody seems to really enjoy it."
Mike added: "There's been a really positive atmosphere and people are certainly very appreciative.
"When people have walked away after having their vaccine, they've thanked you for what you're doing.
"To get that appreciation and feedback is great.
"I've really enjoyed it and it's never felt like a chore. I would definitely recommend volunteering."
Jill added: "It's nice to get out and meet other people from different walks of life and see how everyone is doing. I really enjoy being a part of it."