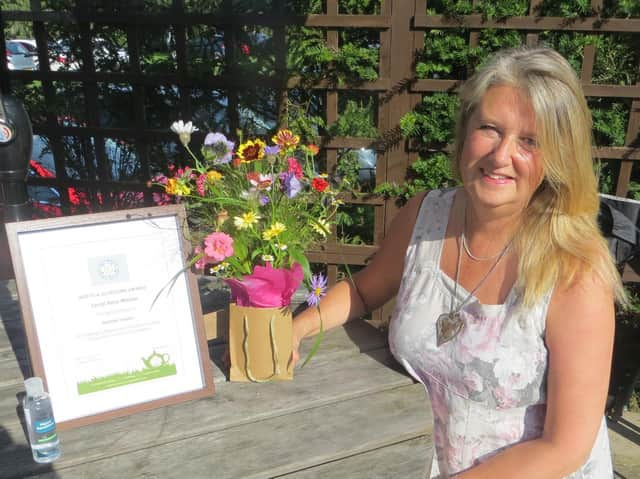 Debbie Swales with her Yorkshire Countrywomen's Award
In the Esk Valley, Revival North Yorkshire has become a lifeline for around 130 residents who have benefitted from shopping deliveries, prescription collections and telephone calls to check that all is well.
Director Debbie Swales explained just what it has been like for the organisation and their team of intrepid volunteers, she said: "It's been crazy busy. Lockdown for us was just ridiculous".
"We were trying to do befriending phone calls and then a group of us did loads and loads of shopping."
Revival North Yorkshire covers a large part of the Esk Valley
"Stronger Communities have been amazing. They realised they didn't have anybody on the ground and made us a Community Support Organisation for the Esk Valley and surrounding villages.
"Because it's such an isolated area, they wouldn't have found anyone else to service it. It was recognition, finally, that we are a really useful part of the community."
Debbie said Stronger Communities provided some funding to help support the organisation, and since April they have done a number of funding applications just to keep going. She said that while the money is more freely available at present, they still have to go through the process of applying.
Debbie said the team were grateful to receive two grants from the Two Ridings Foundation and an emergency grant from the Normanby Trust.
"We couldn't do it without our volunteers"
Most applications came through around three months ago and thanks in part to a grant from the National Lottery, they were able to employ Michelle Williams in Castleton who was instrumental in getting volunteers DBS checked as well as suppoting people with shopping etc,
They have also recently recruited Community Support Workers in Danby and Castleton, and Sleights. Debbie said: "You need somebody on the ground. You need somebody there to support people."
The thing that really sets Revival North Yorkshire apart, however, is the number of people who give up their time to help their neighbours.
Debbie said: " Nothing we do would be possible without our volunteers. It would be impossible to support 130 people without them.
Some of the volunteers on the road above Castleton
She said at the moment they are currently struggling to find enough people to help and encouraged anyone who has a little time on their hands to get in touch. She said: "We're currently desperate for volunteers, we don't have any at all in Staithes.
"There's not enough to get 'Lunch on Legs' out and we try to do 'Lunch on Legs' twice a month.
"We don't want anyone to think they will be sent shopping or asked to go out.
"We have volunteers who make one befriending call once a week and those who call ten people twice a week.
"We have volunteers who say 'I want to do shopping' and others who say 'I want to do meal deliveries.'"
"Volunteers are never asked to do anything they don't feel comfortable with.
"People making one phone call are just as important as those who go out and do the shopping."
Val Rowe, a retired teacher from Sleights, is one of Revival's valuable volunteers. She said: "Debbie is a really special person, she thinks outside the box."
"She doesn't just think about prescriptions or how to get food, she thinks about everything in a broad sense because she cares about people. Everybody loves her.
"She has a genuine concern for people's wellbeing She will do all she can to ensure someone is supported.
"She won't leave any stone unturned until she finds a way that person can be supported.
"She thinks so much of us as volunteers. She's just so humble and so modest."
Val said: " I used to love Memory Lane Lunches and coffee mornings and enjoyed dancing and singing, it's such a valuable social interaction.
"I've learnt so much about people, one was a backing singer in a band, another lady met the Beatles when she was working in a cafe in Runswick Bay."
When lockdown started, Val became a telephone befriender, and as restrictions have eased, she has also been able to have socially distanced visits with people in their gardens.
She said: "I've just started delivering Fish and Chips from Eskdale Fisheries in Sleights.
"I love doing it. I do quite a bit of volunteer work, but this is my favourite."
"For Yorkshire Day, the Yorkshire Countrywomen's Association invited people to nominate people in Yorkshire who have contributed to the local community.
"Much to her surprise, Debbie was shortlisted with Captain Tom and the two were joint winners, The certificate was presented at Perry's garden centre.
"One lady I visit, Alice, 99, her face just lights up when I mention Debbie, "She's a little treasure." she'll say."
Trustee Ian Johnson said: "Whatever Debbie is doing now, she was doing before all this happened."
"She's a one off - her work rate is prodigious. One of the ladies that Revival has been helping is currently on dialysis. She was concerned that her garden had gone to pot and she wasn't well enough to sort it out."
Debbie asked Ian if he could help and he grabbed a couple of guys and they spent a few hours sorting it out and got it looking good.
Ian said: "Debbie always goes that extra mile, She likes to make sure that she's not just helped, but really helped."
And what would Ian say to anyone thinking of volunteering? "Do it! You'll have a great time. People are very grateful, it's very rewarding. This thing goes out sideways, not only does it help the people who need it, but also those volunteering as well."
Helen Spinks is no stranger to charity, she has been involved in the sector for over 25 years and was manager of a charity for over 16 years.
She said: " Debbie is a wonderful manager and leader. She sees a gap and just gets on and fills it.
"She mobilises us and gets everyone in place very quickly and efficiently.
"She has a way of finding clients who really need the service.
"Before lockdown I used to help with the lunches as part of the cooking and serving team.
"Now I help to deliver lunches and phone three people twice a week to make contact with them.
"A 94-year-old told me he had a problem with his wash basin and he said: 'I need a plumber.' I talked to Debbie who talked to another volunteer.
"The plumber came two or three days later and the new wash basin is being delivered and fitted this week."
"It's a great team to work for and we have a lot of fun. The big thing is about joining in and getting to know people."
If you have time to spare, or you can help in any way, you can contact Revival North Yorkshire by calling 07970 955407.