Salt of the Earth: Meet the Gallows Close team making a difference in Scarborough
In a time that has seen us withdraw from each other and shut ourselves away in our homes, keeping us apart from those we normally socialise with, there are those who have looked for ways to bring people together and fight isolation.
Friday, 25th September 2020, 3:13 pm
Updated
Friday, 25th September 2020, 3:18 pm
There have been a number of initiatives in Scarborough which have seen meals delivered, prescriptions collected and elderly neighbours looked after.
In Briercliffe, the workers and volunteers at Gallows Close Centre instigated a number of measures to help alleviate the boredom caused by lockdown and to ensure everyone remained fed.
In this week's Salt of the Earth, our reporter, Louise Perrin, talks to centre manager Kimmie Avison, cafe manager Kendra Davies and volunteers Nicky Pattison and Kevin Coyne about the roles they play within the centre and the difference it makes to the community.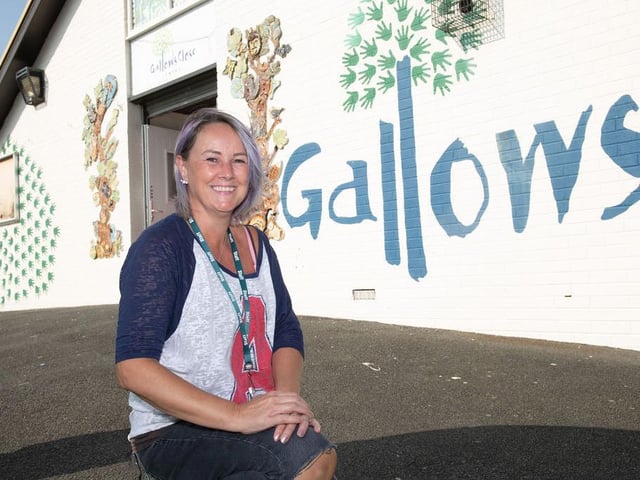 Kimmie Avison, Community Development Worker, Gallows Close Centre
Gallows Close Centre sits in the Briercliffe area of Scarborough, an area which is home to a very diverse group of people.
The centre, run by community development worker, Kimmie, has just two main employees, Kimmie and Kendra.
In more normal times the pair are ably assisted by a team of around 15 volunteers, who between them donate 144 hours of their time each week to provide a wide range of activities.
When lockdown hit, most of the volunteers were either forced to shield or stay home to look after younger family members and Kimmie found her team of 17 reduced to a team of four.
L-R: Kev Coyne, Nicky Pattison, Kimmie Avison and Kendra Davies
Between them Kimmie, Kendra, Nicky and Kevin have put on a variety of activities for the local community, including activities for young people, sports sessions and even a rap session encouraging youngsters to explore their feelings about lockdown with the team from Sidewalk.
Supported by grants from the Two Ridings Community Fund, the help they have been able to offer the community has been vital. Kimmie said: "We closed our doors on March 18 for a week to look at things we could do.
"I wouldn't do anything to jeopardise myself or the volunteers and had to make sure that what we did was safe. I've had three main volunteers who have absolutely brilliantly since we closed our doors.
"Kendra Davies is known by many as Mama Kendra, has been my right hand woman, she's been by my side all the way."
The community garden has been a great success
"Nicky Pattison has been helping with food parcel deliveries, making craft packs and helped out with cafe, manning the desk at the entrance for take out orders."
"Kevin Coyne, Nicky's other half, looks after the community garden and makes sure there is fruit and veg to sell in the cafe. "
"We've done one heck of a lot with a team of four people.
"I've still been working lots of hours, but have only been charging the centre for 10 hours.
"It's been very difficult. Just thinking of the effect it's had on my home life and family and there are people in a lot worse position than I am.
"We've been there to support the community. We've delivered over 500 food parcels and over 300 packed lunches for children.
"We've created 75 care packs for NHS staff. Made surprise birthday cakes and created over 400 craft packs to keep children busy,
"We worked with the BBC Radio York uniform scheme to encourage people to donate old uniform and handed it out to people who couldn't afford, or couldn't get out, to buy.
"It turned into a uniform swap, quite a lot of shoes and clothes were donated."
Veronica Pace who lives on Briercliffe said: "I run zumba once a fortnight for people with special educational needs.
"Kimmie helped me through the pandemic. When I couldn't earn anything. Kimmie just turned up with the real necessities.
"You can talk to her and you just know that it's not going to go any further, there's no judgement whatever your circumstances."
"She set up school uniform swap for those too shy to ask, it's hard as a mother of six, four of which need uniform.
"I didn't have any wages coming in and without Gallows and help I don't know what would have happened."
Kendra who is employed for 10 hours a week, but often ends up doing nearer 20, said: "We've had tables outside and a lot more people went to sit outside. We've seen a lot of new faces as well."
"We usually have outdoor summer classes but did some activities inside if the weather was bad.
"Due to covid we had to run some clubs twice a week to cater for the same amount of kids.
"When I first started coming to Gallows, I didn't like to leave the house, I'm agoraphobic. My son went to a club and Kimmie kept asking me to volunteer or join classes.
"It really started when I made a cake at Easter and helped out at a fun day, now I'm never far away.
"I still have to force myself to go out, but going to Gallows is easy.
"I've met a lot of people and made a lot of new friends, when I go to Gallows people actually come to see me as well as Gallows."
Nicky Pattison said: "I help out with the cafe and youth club when it's running and Steps To for adults with additional needs.
My partner of 22 years, Kevin Coyne works in the community garden and keeps it looking nice.
"I went back in during lockdown to help with the cafe and to make the craft bags.
"It's nice to see the smile you can put on people's faces with just a little gesture. Anything I can do to help support the local area, I'll be there."
"Kimmie is fantastic. I can't put into words how good she is. Kimmie is Gallows. Gallows would not be there without Kimmie and the things she does, the time and effort she puts in is just amazing."
Local resident Kim Kilvington said: "They really made a difference. When everybody went out and bought all the self raising flour and caster sugar at the start of lockdown. I couldn't get the ingredients to make my son a birthday cake."
"Thanks to them, my son, Oliver got his ninth birthday cake, we wouldn't have had it if it wasn't for them."
Kendra even said: 'I've got a printer at home if anyone at Scalby School needs any school work printing off."
"I don't know what we'd have done without Kimmie, Kendra and Nicky, we'd have been stuck without all three of them."