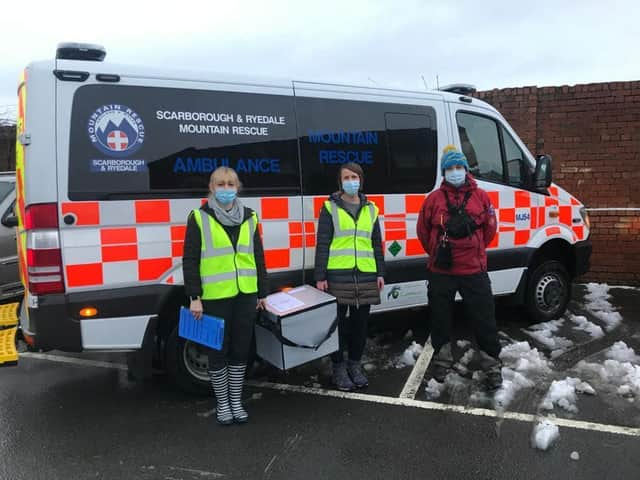 Practice nurses and mountain rescue volunteers teamed up to take Covid-19 vaccines to the homes of vulnerable people living in isolated areas
The surgery's catchment area includes isolated moorland villages as well as the towns of Pickering, Helmsley and Kirkbymoorside in the North York Moors.
After heavy snowfall hit the area on Thursday, mountain rescue volunteers gave NHS staff use of their specially adapted vehicles to ensure vulnerable housebound patients received their Covid-19 vaccinations.
Those living in remote areas where roads were in a dangerous condition had the vaccine brought to them and administered by staff from the practice in their own homes.
The 4x4 ambulance/minibus owned by the mountain rescue was deployed for the operation.
Scarborough and Ryedale Mountain Rescue Team said: "In light of the forecast adverse weather conditions, Pickering Medical Practice asked us if we could help support their Covid vaccination programme and of course we were delighted to make ourselves available to support them and our local community.
"'Taking the practice to the patient when the patient cannot get to the practice'."
Pickering Medical Practice added: "Big thank you to our intrepid vaccination teams who have been out in the snow providing Covid vaccinations to patients registered with us as being completely housebound and vulnerable.
"It's been fantastic to have the support of the wonderful Scarborough and Ryedale Mountain Rescue team who have been on standby for us to make sure that vaccines get delivered whatever the weather
"We have a further vaccine delivery in the pipeline and will be contacting eligible patients imminently."
The surgery received their first batch of vaccines in mid-December and immediately rolled them out to a priority group of over-80s.
They took delivery of the vaccines only days after being informed of their arrival, and did not have time to write to patients to invite them to clinics.
Instead, staff worked until late at night and on weekends to print and then hand-deliver letters to 975 elderly people.
They achieved a 100 per cent take-up rate among the first cohort of patients contacted - almost 1,000 people, many of whom had been shielding for months.
Pickering's local volunteer network sprung into action to help the letters reach the patients in just four days.
In total the practice has 1,920 registered patients over the age of 80.