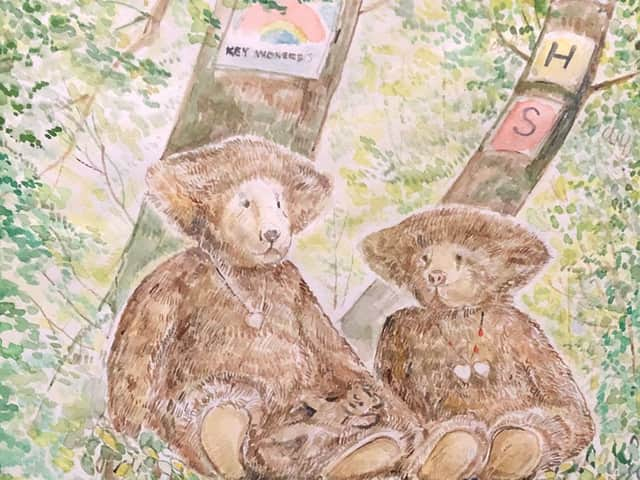 Watercolour of Brown Bears in the tree.
Alan, 81, owner of Alan Stuttle Gallery in North Marine Road, wants to give something back to the children who's act of kindness during lockdown brought a great deal of joy to his daily walks.
One of the highlights of Alan's day during lockdown was his daily walk along the Cinder Track just by his home on Hillcrest Avenue. One day he noticed children had placed some teddy bears in one of the trees along the walk, in appreciation of the NHS and key workers.
Alan said: "It gave me a great deal of joy on my walk to see what the children had done with the teddy bears.
Teddies in the trees watercolour.
"I thought this was a wonderful tribute to the NHS and other key workers, which came straight from the heart of the children and it deserves a thank you from somebody.
"A positive sentiment like this makes a big difference in such a difficult year."
Alan has already painted a series of the teddies in the trees to mark what the children have been doing and now would like to ask if any children would like to send in pictures of their teddies he will choose 6 and paint a watercolour of each one.
Alan said: "Who knows depending on the entries it may turn into a 'Teddython' and I may see how many teddies I can paint in a week."
If you would like to send a picture of your teddy to Alan to paint you can send it along to [email protected]