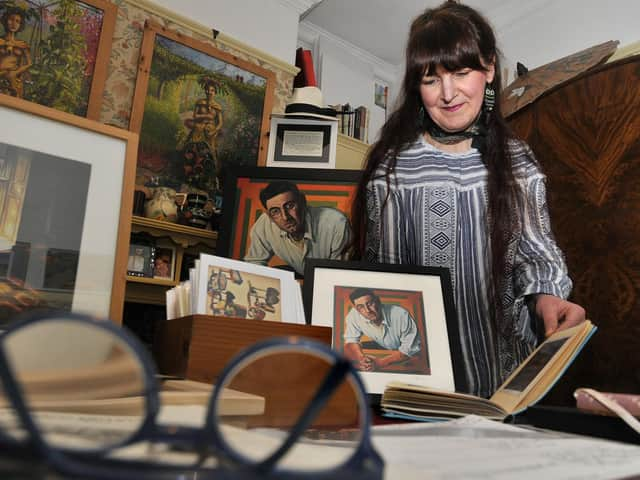 Artist Lynne Arnison
She was going to display the painting in the Shop at the SJT to coincide with the screening of the film in the McCarthy studio of the Scarborough theatre on Thursday April 16.
The event has been cancelled and the shop and theatre are closed because of the virus outbreak.
"I have loved this film for more years than I can remember and watched it more times than I can remember too," said Lynne who lives in Ramshill.
Richard E Grant stars in the film with Paul McGann and Richard Griffiths
"Every quote is as memorable and eloquent as Shakespeare, every scene has the pathos and wit of Ayckbourn for me. "
Withnail and I is a 1987 British black comedy written and directed by Bruce Robinson. Loosely based on Robinson's life in London in the late 1960s, the plot follows the exploits of two unemployed actors, played by Grant and Paul McGann.
They decided to holiday at a country cottage belonging to Withnail's uncle Monty – played by Richard Griffiths.
"For a long time a painting derived from this film has rattled around in my head, but how to execute it?
"I have a series of paintings on vintage wallpaper, so decided to find some Regency stripe as a fitting backdrop.
"I chose one of my favourite scenes from the film as subject matter," she said.
While painting it Lynne was struck by the similarities between the synopsis of the film and the unusual times we are experiencing now.
"Two out of work actors desperate for work but trying to fill in their time whilst ' between jobs' which is in a way how most of population of the world are having to survive right now," she said.
"My thoughts also turned to the actors who would have been in productions at the Stephen Joseph Theatre here in Scarborough who are waiting in the wings for when the theatre reopens.
"The film was due to have a special screening nd I would have exhibited this painting in the theatre shop for other Withnail and I fans to enjoy."
Lynne and her husband David "had also planned to initiate my daughter to the delights of Withnail and I but this will have to wait now until after lockdown".
However, Lynne still plans to watch the film at home on Thursday April 16.