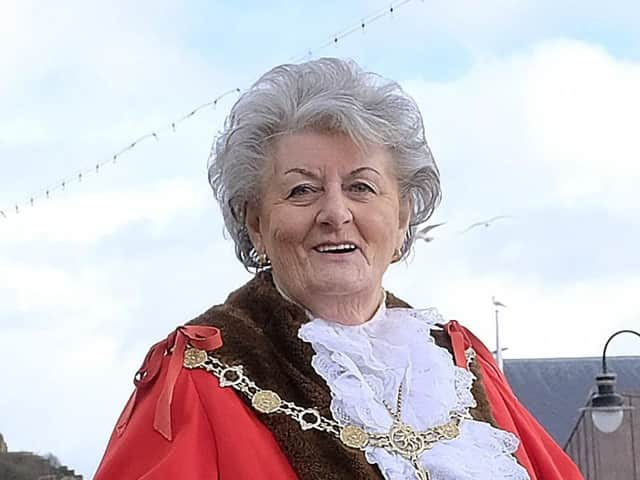 Mayor Hazel Lynskey
The event, which will take place at Scarborough Spa on Tuesday May 18, is expected to be attended by around 100 people, with almost 60 groups or individuals being nominated for awards.
The Mayor's Commendations came into being as a way of saying thank you to the people who helped those in need across their community
during the first lockdown.
The Mayor was keen to publicly recognise the outstanding and selfless work of so many individuals, households, groups and organisations that went the extra mile during the most challenging days of the pandemic to help others, and in many cases are still doing so.
Nominations were sought to find the many people of Scarborough borough who went above and beyond the call of duty or neighbourliness during the earlier part of the coronavirus pandemic.
Those whose names were put forward were considered for the awards by former mayor Tom Fox, Major Tony Viney and mayor's consort Mike Lynskey.
Those chosen will receive their award, a bespoke glass certificate, at the ceremony at the Spa.
Cllr Hazel Lynskey Mayor of the Borough of Scarborough, said:"For the many stories I've heard about people making an extra special effort to support those most in need during the pandemic, I know there will be many, many more that I'm not aware of.
"I would like people to shine a light on our borough's coronavirus heroes, no matter how big or small a contribution someone made.
"I believe their efforts should be formally recognised.
"They played a hugely important role in our community pulling together to get through the worst days of the virus.
"This has made me very proud of the people of our borough."
A strict series of measures are being put in place to
Covid-secure as possible.
Attendees will be asked to wear masks when walking around the room and all the seating has been carefully spaced to ensure social
It will be Cllr Lynskey's
final engagement as mayor before she hands the reins to her successor Cllr Eric Broadbent on Thursday May 20.
Cllr Lynskey said: "What a way to go as my last engagement.
"The Mayor's Commendations are a lovely idea, people need good news.
"If anything comes out of these very strange times, it's that people have learnt how to look after each other."