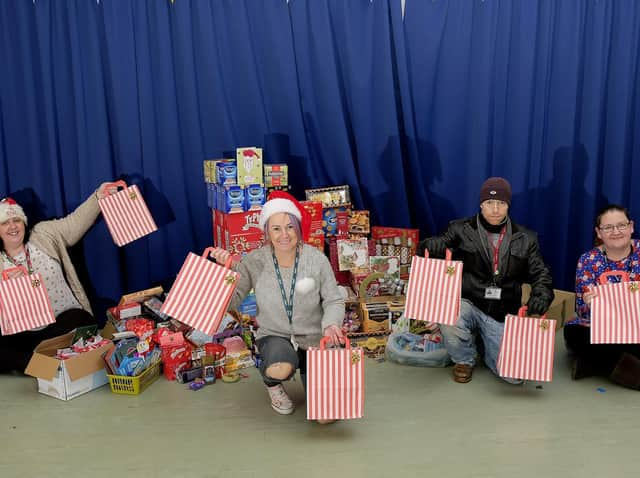 https://www.thescarboroughnews.co.uk/news/crime/appeal-information-after-window-damaged-eastfield-3078427
Sammy Leighton, 34, said: "I realised a lot of people had been affected by coronavirus and most of them were 50+ and living on their own.
"Their social life has been taken away and a lot don't have workplaces. Even their doctors have gone online. Everything has changed for them. Nothing is the same.
"I saw an elderly gentleman buying just a few bits in a shop and he didn't have the money to pay for them.
Kimmie Avison with some of the gift bags that will be given to local residents
"I just wanted to do something to give people a bit of cheer. I thought if we can deliver that with a Christmas afternoon tea, then why not?"
Sammy, who lives on Seamer Road, put the idea to Kimmie Avison at Gallows Close Centre and the 'Let's leave no-one behind at Christmas' initiative was born on Facebook.
A number of hubs sprang up across Scarborough in support of the idea, and those who wished to receive a Christmas afternoon tea were asked to get in touch.
Sammy said: "We wanted to do a hot lunch for everybody but were bound by insurance, so decided to do the afternoon tea instead. I believe that in total there will be 500 + parcels delivered. The original idea was to get the community to help the community rather than relying on businesses, and a lot of people donated."
"Businesses were also really good, Morrisons, Tesco and Sainsbury's all donated items for their areas of town.
"Florios donated the turkey and the boxes to put the teas in, Cooplands donated lots of bread buns and Scarborough Hall Care Home donated mince pies and bath bombs."
"It was never about donations, just about the little things really.
"We've had lots of cards and crafts from schools, nursery schools and childminders.
"We've had a request for delivery to the chemotherapy unit at Scarborough and anything left over will be given to nursing homes so the residents can have something.
"To be honest I thought there would only be a few but in the first 48 hours it went crazy and the Facebook group gained over 700 followers."
Kimmie Avison at Gallows Close Centre said: "We're putting together 74 Christmas Eve parcels, we also have 70 Christmas gifts to hand out to children and 25 to give to our Steps To group which supports adults with additional needs.
"We're also supplying 18 Christmas dinner hampers with help from Tesco."
Gallows Close Centre will close on Christmas Eve for a well deserved break and reopens on January 6.