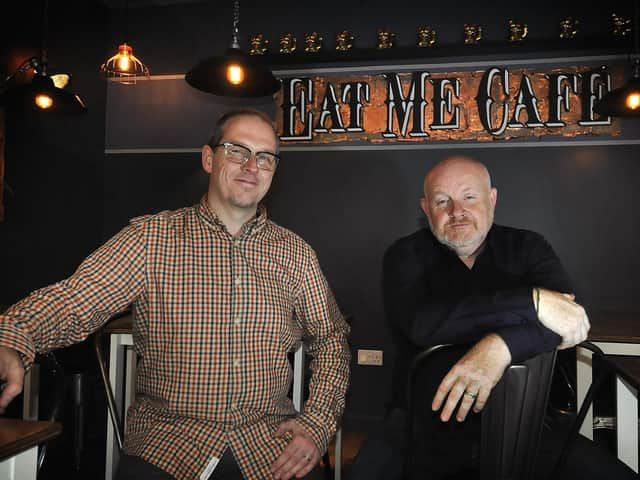 Stephen Dinaro, left, and Martyn Hyde
Community Kitchen Scarborough will deliver pre-cooked meals for reheating, and boxes of ingredients to enable meals to be cooked from scratch, to those in need in and around the town.
The project is also seeking volunteers willing to donate their time to deliver the meals.
The team comprises the owners of some of Scarborough's most popular town centre cafes and restaurants.
Spokesperson Martyn Hyde, of Eat Me Café, says: "We've all had to close our doors to the public for the foreseeable future, and wanted to use our newly-found spare time to give back to the community that has supported us so much over the years.
"Each of us will use our kitchens and catering skills to prepare meals for those who need it during the difficult times ahead. Some will be pre-cooked and chilled, so just need reheating – others will be boxes of ingredients for those who prefer to cook for themselves.
"We're currently seeking funding to get started, and are talking to various local community organisations, including Age Concern, the Young Carers' Service, Scarborough Survivors and the Stephen Joseph Theatre, to identify those who might need our help.
"We've also had amazing support from local supermarkets Morrison's and Aldi.
"And we need volunteers to help us with deliveries"
Anyone wanting to help can register interest at [email protected] The Community Kitchen Scarborough team is: Martyn Hyde and Stephen Dinardo from Eat Me Café; Simon and Julie Boddy from Boddy's of Bar Street and North Street; Andy Walker from Espresso Yourself and The Cow Shed; Philip Akrill from The Green Room Brasserie; Reece Wilde from Koda Coffee; Jim Grieve from Scarborough Digital; and Matt Stradling from Scarborough TEC.