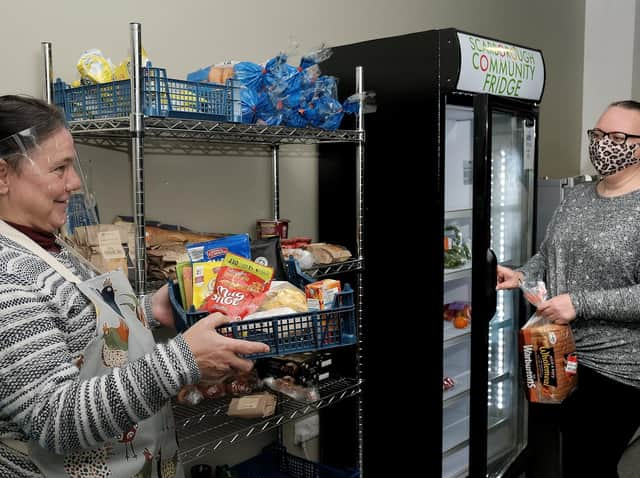 Mel and Yvonne Parry at Scarborough Community Fridge
Committee member, Tony Bates, said: " Reports of huge food waste over the festive period have highlighted the urgent need to reduce food waste.
"We had originally planned to reopen Scarborough Community Fridge this Saturday, January 9, but were thrown into confusion by the lockdown announcement.
"However, we held an emergency committee meeting and have decided to reopen with revised rules, reducing the hours to 10.30 to noon, at The Street, Lower Clark Street, Scarborough."
A statement issued by the community fridge read: "We are not a food bank. We are a team of volunteers who work with local food suppliers to intercept food destined for landfill, redistributing to local people, whether in need or not, accepting financial donations where people feel it is appropriate.
"The community fridge will be open this Saturday, on a trial basis, at a slightly later time of 10.30am until 12 (or before if we run out of food).
"We are trying our best to look after the welfare of both you and our volunteers and reduce interaction where possible.
"Due to this things will be running slightly differently, so we will need your help to make this work.
"We'll be operating as close to our usual service as possible and will try to cater to allergies/dietary requirements; however, this is our first time operating in this way so please bear with us.
"No-one will be allowed to enter the building - there will be markings on the pavement outside so please make sure you are social distancing.
"We will be handing out pre-packed bags at the external glass doors of the Our Front Room area of The Street building.
- Choose 1 person per household to queue
- Observe social distancing guidelines
"This will be reviewed next week and we will keep you updated with any further changes on our Facebook page.
"Thank you for your understanding and ongoing support."