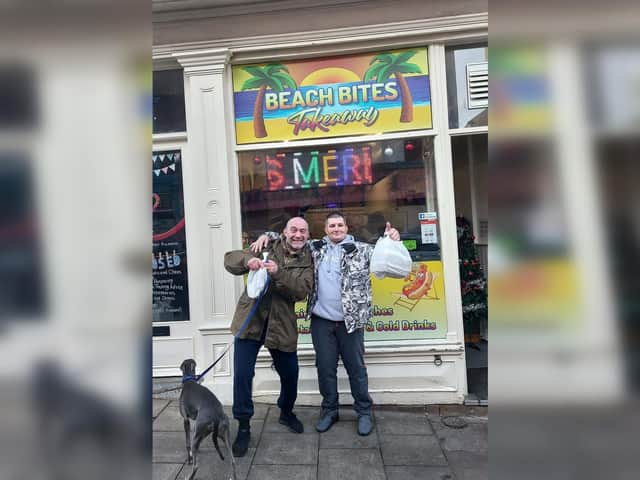 The free Christmas dinners proved popular with all
Beach Bites UK, on Eastborough, decided to offer a free three-course Christmas dinner for anyone who is lonely, homeless or vulnerable.
Manager Nathan Pratt said they had wanted to help as many people as possible, but even they couldn't believe the range of people they fed this year.
He said: "We ended up doing around 230 meals, there were just five or six left so we pretty much ran out. It was really good.
Wine delivery from Nathan Pratt, Jamie Liley
"We fed the homeless, we did six meals for a family staying at the Grand Hotel because their house had flooded, one lady messaged on Christmas Day to say their oven had broken and please could they have four Christmas dinners. We even had people turn up on Christmas Day.
"One family had been on their way to visit relatives in Leeds when police stopped them and turned them round, so they rang for Christmas Dinner.
"Then there were the hospital staff as well, we hadn't even thought about them, they had been called in to work at short notice.
"They came down and said: 'We haven't had a chance to do Christmas Dinner, do you mind if we have one?' We were happy to feed them as well."
Eric enjoys his Christmas dinner
The logistics of organising so many Christmas Dinners saw the prolific fast food shop close for the night to ensure they were ready.
Nathan said: "We decided not to open on Christmas Eve so we could do all the preparation. It's a good job we didn't open, because if we'd been working until 10pm, we'd have been there until 4 or 5am getting ready."
The initiative has gone down well with the people of Scarborough. Nathan said: "We've had people come in who've never been before. They've said we've seen what you've done this Christmas, so we've come to give you a try."
"We even had a lady just turn up on the day to bring us a bottle of wine to say thank you. She didn't even want a Christmas Dinner.
"It's all been very good and it's definitely something that we plan to do again in the future.
"We had one delivery driver who came and volunteered on the day, we even delivered some to Filey as well."
Most deliveries Beach Bites made were to the elderly; one doctor rang and arranged deliveries for six of his patients.
But it was 89-year-old Eric from Scarborough who really made Nathan's Christmas.
He said: "I don't know who organised it, but when I turned up to his house he didn't even know it was Christmas Day."
"He said to me 'Can you pull my cracker with me?' and he smiled. That one positive made doing Christmas Day worth it."