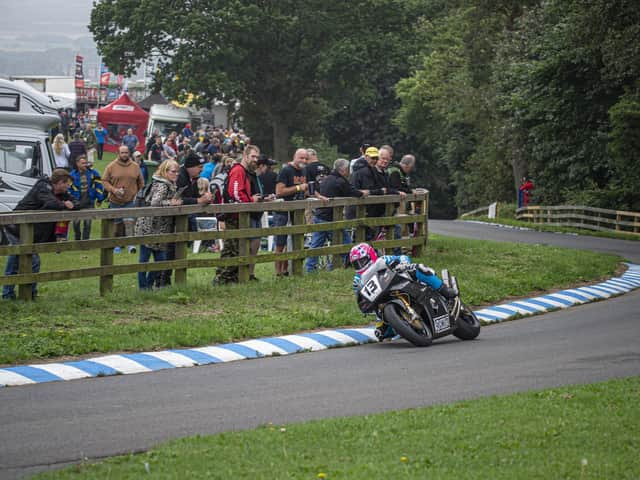 Barry Sheene Festival action from 2019 Supplied by Oliver's Mount TwoFourThree Road Racing Association Photo taken by John Margetts,
Last week, races due to be held at the road track, which has hosted meets since the 1940s, had to be cancelled or rescheduled due to safety concerns.
The Barry Sheene Classic 2021 Festival, which was due to be held on June 26 and 27, has been cancelled as has the Oliver's Mount Festival in July, while the Bike Hillclimb and Michelin Steve Henshaw Gold Cup will be held later in the year.
The council is the landlord of the circuit but the day-to-day operations and running is carried out by Oliver's Mount Racing Ltd.
In a statement the council said a number of buildings needed to be demolished following recent health and safety inspections.
A spokesman said: "We can confirm that recent detailed inspections of aged buildings at Oliver's Mount circuit have revealed a number of serious problems that urgently need to be addressed.
"While it is hugely disappointing for all concerned that some of this year's racing calendar will be disrupted as a result of the immediate nature of the work required to put things right, we would like to thank the team at Oliver's Mount Racing and their partners for working with us to put the safety of everyone involved in putting on, taking part and supporting racing, first.
"We know how important racing at Oliver's Mount is to competitors, fans and also the local economy as we start to bounce back from the events of the last 15 months.
"We would like to provide reassurance that we will do all we can during the coming weeks to ensure the demolition of the unsafe buildings and associated work takes place without delay so that the circuit can be given a clean bill of health and much loved racing can return to the iconic venue later in the year.
"Meanwhile, we have already taken swift action to cordon off the problem areas with Heras fencing and restrict access. A plan for the upcoming works is being finalised as a matter of urgency."
Race meetings in Scarborough are hugely popular with fans and riders alike due to the demands of the 4km track, which winds up and down the mount.
Thousands of people flock to the races each year at England's only remaining "natural" road-racing track.
An announcement on the Oliver's Mount Racing Facebook page said that the organisers were hoping to secure funding for the work and that donations from fans of racing had started to come in.
It said: "We sincerely apologise to all spectators, riders, officials, marshals and staff that have these dates in the diary and especially to those that have booked time off work or accommodation for these events, and even more so where these plans are not changeable, or refundable.
"Please believe we tried as hard as possible to make these events go ahead in very difficult circumstances, but it became obvious to all concerned that the events could not proceed."
It added: "There are no conspiracies here, we have had nothing but fantastic support from Scarborough Borough Council and the ACU (Auto-Cycle Union).
"They both want Oliver's Mount to continue without a doubt and are going beyond what they need to do to help in this terrible situation.
"Oliver's Mount Racing have done nothing but invest in Oliver's Mount since 2019, we have not taken any profit out of Oliver's Mount [and] we have the firm intention to reinvest profits in improving the site and facilities, but this situation forces us to do this much sooner than we can afford to, but we will find a way and we are hopeful that Scarborough Borough Council as the landlord will financially assist with the rebuild job.
"We will also be looking into any other support we might be able to get, from grants, corporate sponsorship et cetera.
"We will be working very hard to make Oliver's Mount fit to run events for the next 25 years."
Anyone wishing to make a donation to the company can visit www.oliversmount.com.