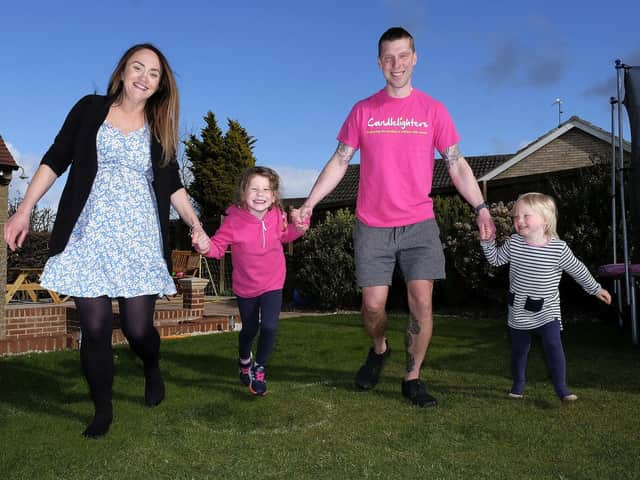 Jon Staniforth with wife Kylie and children Arya and Thea.
Dad-of-two Jon Staniforth is aiming to walk a staggering 10 million steps this year in aid of The Fire Fighters Charity and children's cancer fund Candlelighters.
The 35-year-old is based at Scarborough Fire Station and the family live in the Stepney area of Scarborough. He has been inspired by the help those good causes provided when his eldest daughter fell ill with an incredibly rare disease.
Arya was just two when she was admitted to Scarborough Hospital with yellow skin, lethargy and a racing heart rate.
Jon Staniforth with daughter Arya.
Doctors told Jon and his wife Kylie that their little girl's red blood cell count was critically low and she needed a blood transfusion.
"The transfusion worked but within a few days Arya's blood count was again critical," said Jon.
"This time she was blue-lighted to the children's oncology unit at Leeds General Infirmary (LGI) where they performed a lumbar puncture to check for leukaemia. Thankfully, this returned clear, but her blood levels continued to drop."
The following weeks saw Arya undergo multiple blood transfusions alongside immunoglobulin infusions to keep her immune system active.
Eventually she was diagnosed with an almost unheard of autoimmune condition and, in December 2019, Arya underwent a procedure aimed at resetting her immune system.
Jon says it appears to have worked well and today she is a happy, healthy five-year-old.
He is keen to show his appreciation for the charities which helped the family during their difficult time by fundraising via his gruelling challenge.
"We spent two years travelling back and forth to LGI and the children's oncology day unit," he said.
"Whilst we were there, we met many families of children who were suffering with cancer.
"We felt lucky that we could go home with Arya – sometimes for a few days, sometimes a few weeks – whilst these children and their families had to stay in hospital day and night for weeks, even months on end."
He saw first hand the invaluable positivity, play and support provided by Candlelighters to families and their very ill children.
And, as a firefighter, he was able to access support from The Fire Fighters Charity, including a week of respite care at their centre in Penrith.
"I also personally know many firefighters who have used this invaluable service to help with rehabilitation of various injuries and they all say that the service and care provided is second-to-none," he added.
So far, Jon has notched up more than 3 million steps.
He needs to take an average of 27,000 a day – around 13 miles – to stay on track and achieve the 10 million by the end of the year.
"It was much harder in January, February and March because it was cold, wet and dark," he said. "Now the weather is nicer, it's easier."