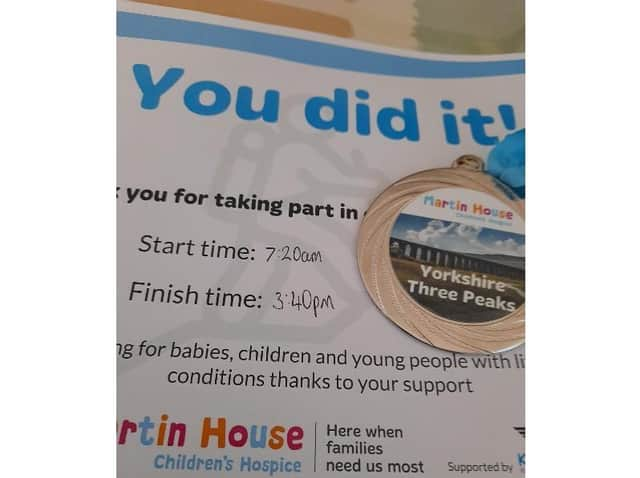 Robert completed the course in 8 hours 20 minutes
Robert, who lives in Eastfield, decided to scale Yorkshire's three highest peaks after seeing so many people struggling during the pandemic.
With the help of his fiancée, Julie Gibson, he decided to support Martin House Hospice, a charity that helps children and young people with life limiting conditions to live a full life. They also offer end of life care, and support to families in bereavement.
Robert, who is a machine operator at Osprey Plastics in Eastfield, said everyone has been really supportive, with his work colleagues contributing £250 to the cause.
Robert displays his certificate
He has been training consistently since the start of the year, going out every weekend walking with Julie, who isn't taking part in the challenge, but has been supporting him throughout.
He said: "I had done the Three Peaks before, but that was 15 years ago.
The route encircles the head of the valley of the River Ribble, in the Yorkshire Dales National Park. It takes in the peaks of Pen-y-ghent, Whernside and Ingleborough, usually in this order, and is normally completed in under 12 hours.
Robert at one of the peaks
When the day came, Robert was fortunate to be blessed with good weather. He said: "I couldn't have wished for a better day. Forty of us all set off together, but we all went at our own pace. I finished second in the group in a time of 8 hours 20 minutes, which is much better than I thought I would do.
"I've raised £1,100. I'm really pleased.
"I've got fitter and fitter over the last five or six months, I've lost two stone in weight and got in really good shape. I even managed to do a six-mile walk the following morning.
"Because I've done so well, next year I'm planning to tackle the National three peaks, that's Snowdon, Scafell Pike and Ben Nevis in just 24 hours, including travelling.
Robert has raised £1100 for Martin House Children's Hospice
"My fiancee Julie has been an amazing support, she has done all the training with me and everything couldn't have gone any better. It went far better than I thought.
"I'd like to say thank you to everybody for their amazing support. It's made it all worthwhile for me to do it."