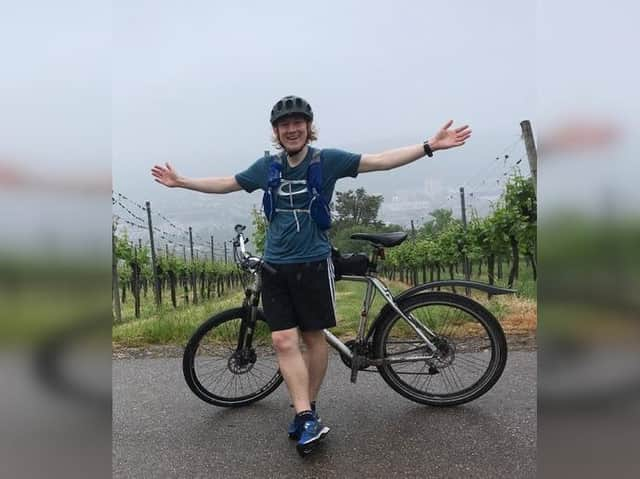 James Robertson will cycle 150 miles to raise funds for St Catherine's Hospice
James Robertson, 22, entered the Coast to Coast in a day event back in February and has been training hard ever since.
He is currently studying at the University of Salford, but has spent the last 12 months on a placement year in Germany. Regularly travelling between Germany and the UK has seen him spend a considerable amount of time in quarantine and he has used this wisely, training for the cross country event on a turbo-trainer.
James' studies have involved working on car stereo systems and more recently the integration of Alexa into vehicles.
The former Scarborough College student has raised over £560 and hopes that total will increase once he completes his challenge.
James said: "From the words I have heard from anyone who has had experiences with Saint Catherine's, they always hold such appreciation for the work that is done.
"The dedication of the staff for giving patients not just care but compassion and spreading happiness is truly inspirational to anyone who experiences it.
"The support to help families and friends through often very tough times is simply heart-warming.
"I myself am very grateful that some of my grandparents have been able to receive care at Saint Catherine's.
"Although their care was very much palliative, the treatment was second to none where they could be in comfort and keep being themselves as best as possible. The support from the staff made this time so much more peaceful for my grandparents, and all of us as a family.
"I therefore have wanted to fundraise for the hospice for some years now, and with undertaking the Coast to Coast in a Day event I thought this was the perfect time. I plan to cycle the event for the hospice and all the marvellous, warm-hearted, attentive work they do, and in remembrance of my grandparents."
The Coast to Coast in a Day takes place on June 26.