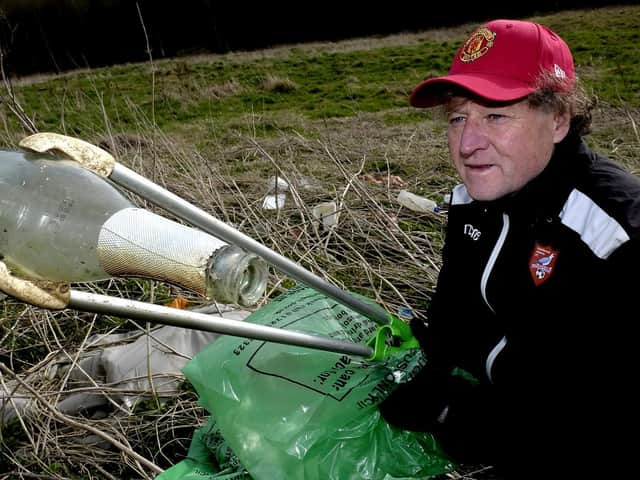 Mick out on one of his litter picks.
Mick, who is originally from Bradford, moved to Scarborough 18 months ago and has since become very involved in the local community.
He regularly posts updates of his litter picks, and sometimes extraordinary finds, on local facebook group 'No More Trash' which is a group dedicated to raising awareness about the impact littering has on the local area.
Mick said: "The group was created by Gaby Naptali and has created a massive interest in litter picking, there are now over 900 members.
The suitcases that Mick found.
"I started litter picking when the first lockdown came. I was getting sick of seeing rubbish when out on my walks, so I contacted the council and they supplied me with a litter picker.
"We have developed a good system of working together with the council. When we have finished litter picking we take a picture of what we have collected, call them and tell them where we have left the bags of rubbish, they then come along and take them away."
It is not only cans, bottles and general rubbish that he comes across, last year he found a till that had been stolen from a local restaurant.
Mick said: "Last year I found a till on South Cliff and alerted the police.
"I then went to El Gringos Restaurant and asked them if they had lost a till. The manageress told me that they had been burgled last July and that thieves got away with around £150 cash, but the police had caught up with those responsible.
"She thanked me for alerting them, as she had wondered where the till had ended up."
More recently, when litter picking near Seamer train station Mick came across two very old looking suitcases , and is on a mission to find out the story behind them.
Mick said : "Both of the suitcases have names on them, one says Lady Stanton and the other Lord ML Leekes.
"I googled Lady Stanton and brought up that she was an activist from the USA.
"I would love to know if anyone can shed any light on this mystery, who these people are, and where the suitcases came from."
Mick can be contacted on his Facebook or via the No More Trash Facebook group.