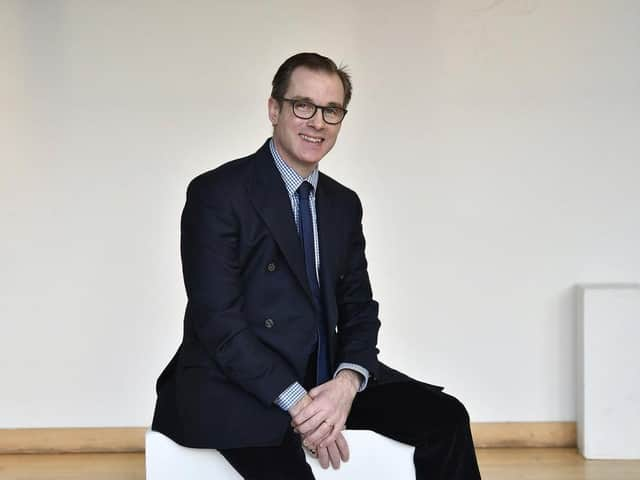 Andrew Clay
All along the coast, rocks from the Jurassic period are exposed in a series of cliffs and bays, which makes fossil hunting accessible to everyone.
The recent find, of what is thought to be the largest dinosaur footprint ever found on the Yorkshire coast, is sure to have sparked the interest of both amateurs and professionals alike.
We spoke to Andrew Clay chief executive of the Scarborough Museums Trust, to find out just how important fossils are to our local area and how people can get involved in fossil hunting.
He said: "It is good fun finding fossils, that is where it starts. I used to love fossil hunting at Runswick Bay as a child.
"Finding fossils is like finding treasure for children. The most important thing is that it is done in a safe way.
"Some people take tools along with them such as a pick axe or hammer and start chipping away at the cliff side, not only is that dangerous, it is damaging the environment and it doesn't need to be done in that way."
As well as searching for fossils on the beach along the coastline, larger finds can be viewed at the Rotunda Museum in Scarborough and the Whitby Museum.
Mr Clay said: "We have some of the really important finds on display in both museums. In the Rotunda we have two fossilised crocodile skulls, they are crocodiles that used to live on the Yorkshire Coast, it is testament to just how much the climate has changed over the last 200 million years."
Visitors come from all over the world to look for fossils on the Yorkshire Coast, and it is a very important part of the tourism in the area.
Mr Clay said: "The whole coastline is like a dinosaur museum in itself, and we really want to encourage people to come to the area and see what they can find, in a responsible and safe way.
"We are always happy to help with identifying any fossils and we always encourage people come in to see us at the museum, the art gallery or Woodend, if they need any help or advice.
"We have missed seeing the public during the pandemic, and cannot wait to open up our doors again."
To find out more about the recent dinosaur footprint found on the Yorkshire Coast click HERE