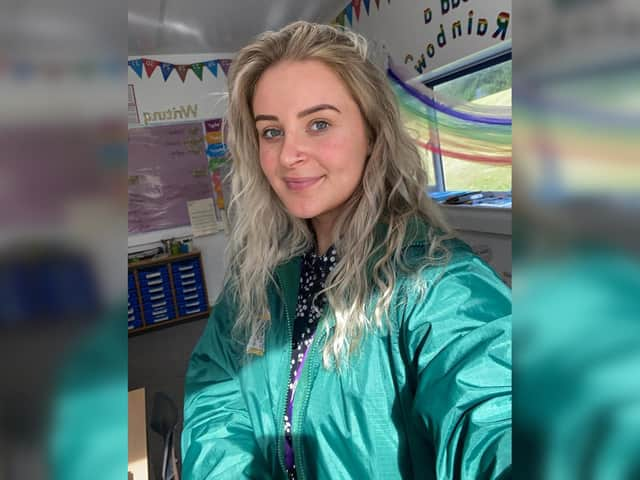 Lauren has become an internet sensation
When Lauren Thorpe answered a callout on Radio 1's 'Go Home with Grimmy' drivetime show, she never expected to become a regular feature on it.
The 23-year-old teacher, who lives on Trafalgar Road, responded when popular radio host Nick Grimshaw put out a call for a cool fact people had learned while watching David Attenborough's new TV series A Perfect Planet.
Lauren's cool fact was about a particular breed of wasps that lay their eggs in figs. The males hatch first and develop in such a way that they are able to impregnate the females while they are still in the eggs. The males then sacrifice themselves to be consumed by ants so that the pregnant females can fly away.
The Airy Hill teacher proved popular with listeners
Lauren said she didn't expect anything to come of the text, but a BBC researcher was quick to get in touch. She said: "They rang straight away and said 'Do you mind coming on and talking to Grimmy for a minute?' So I pulled over and talked live on air.
Lauren's appearance was quick to prove a hit with listeners. She said: "The lady phoned back about 6.40pm. She said: 'we got loads of texts to say you were really funny, and she asked if I would make it a weekly thing.
"Now I go on at 5.15pm on a Monday evening to tell Grimmy an interesting fact I've learnt while watching the programme the night before.
"They ring first to do the handover and we have a chat and then I just talk on my phone from my bedroom.
"I always try and think of something funny to say. I feel like I'm writing a bit of a comedy script if I'm being honest."
Lauren said it has all been a little surreal.
The catch-up show on the BBC Sounds app is billed as 'Talking a Perfect Planet: Lauren from Scarborough gives her account of A Perfect Planet from last night'.
She said: "Last week Grimmy even put me on his story and said this is what we learned today. He also shared my instagram account @ilaurennnn on his page
"The BBC even called me 'our new favourite'. They're really hyping it up."
A self confessed David Attenborough fan, Lauren has a passion for all of the naturalist's programmes.
When asked if she'd consider a career in broadcasting, Lauren said: ""It's the last episode this week and I'm quite happy in teaching, but they've asked if they can keep my number and I'd definitely be alright to do things in the future."
Lauren's new-found fame has proved a hit with pupils at Airy Hill Primary School in Whitby where she teaches Year 2 students.
She said: "Mine are quite young, but it's all been going on the school Facebook page and parents and staff are really excited.
"Year six have interviewed me for the school paper and some of the children from my old class have come up to me and said: "Oooh Miss, look, you're famous."