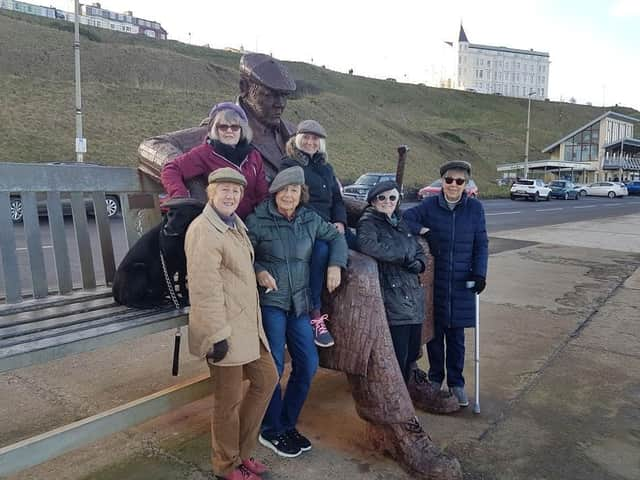 Mary and her walking group in their flat caps at the Freddie Gilroy sculpture.
Every year Yorkshire-based charity Brain Tumour Research and Support (BTRS) run a Flat Cap Friday campaign on social media.
However, this year the charity is running a special competition based around the Freddie Gilroy sculpture on North Bay after a suggestion from a local walking group.
Mary Grunwell, a member of the group, explained: "I walk with the group of friends in the picture regularly and I knew BTRS did Flat Cap Friday throughout March.
Ellie's Fund, set up in memory of Scarborough teenager Ellie Othick-Bowmaker, pictured, is part of BTRS.
"I suddenly thought Freddie wears a flat cap and I had the idea."
The flat cap campaign in March is a way to raise awareness of the charity's work and brain tumours and those who take a selfie with Freddie will be entered into a competition.
All you have to do is take the photo, post it on Facebook and tag @btrsacrossyorks and also like and share the BTRS Facebook page.
The best photo will be decided by BTRS staff on March 31 at the end of the awareness month and the lucky winner will receive free tea and cakes at cafe No 31 – the charity's shop and coffee house in Headingley, Leeds.
Mary added: "It doesn't cost anything to take a photograph and send it into them and I just thought it was a good thing to do.
"Plus, if you win some free cakes even better."
Mary became aware of BTRS a couple of years ago and knows families that have been affected by brain tumours.
In January she attended the Ellie's Fund concert at the YMCA – a 10-year tribute evening to Scarborough girl Ellie Othick-Bowmaker who died aged 14 from a high grade tumour.
Ellie's Fund, a charity set up in her name, is now part of BTRS and has raised £300,000 towards research into brain tumours in the 10 years since her death.
BTRS is Yorkshire's leading brain tumour charity, dedicated to raising funds for life changing research and patient support.
People with primary brain tumours aged between 18-24 can apply for a grant from Ellie's fund if they're eligible.
It provides financial assistance to families who live in Yorkshire and who have a child going through treatment for a brain tumour.