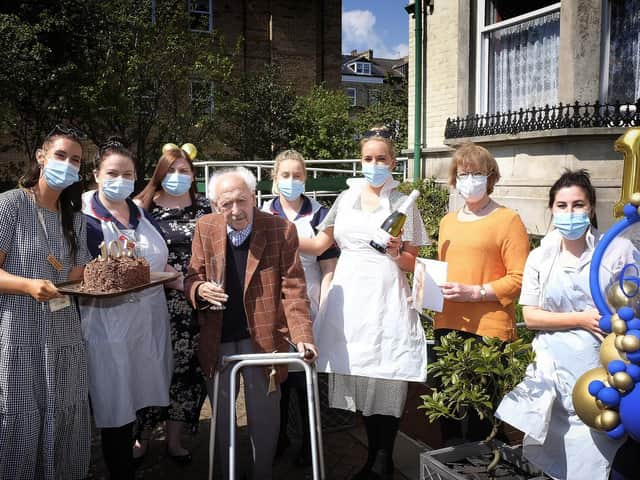 Staff at Ravensworth Lodge celebrate George's birthday, from left, Kyrah Buckross, Jenny Walker, Heather Grisman, George Adams, Lauren Thomson, Kim Thomson, Christine Abbott and Katrina Penten.
George Adams marked the momentous occasion on Saturday with a party in the garden at Ravensworth Lodge, on Belgrave Crescent, with staff and fellow residents, enjoying music, cake and balloons.
George said that the afternoon celebrating his birthday "was very good".
Heather Grisman, secretary at Ravensworth Lodge, where George is the oldest resident, said: "He's lovely, fully independent and always in a suit, smartly dressed.
George Adams twirls staff member Christine Abbott as they enjoy a dance in the afternoon sun.
"He always likes to have a little dance when the music is on and brings a smile to everyone's face when we see him, he's always so happy!"
The home's regular visiting musician, Matt Jones-Green, entertained guests all afternoon with classic hits, including George who got up for a dance himself, twirling staff member Christine Abbott in the afternoon sun.
George said: "I've always liked dancing."
Born in the Armley area of Leeds, he went to school there and has fond memories of growing up in the city.
Kim Thomson and George toast a glass to the special occasion.
He said: "I lived on a busy street, playing out with other children. We used to go out collecting bluebells and play football. When I got a bit older I enjoyed going out to the cinema."
During the Second World War, he recalled driving a "Captain Brown" around in Africa and Italy.
George moved permanently to Scarborough in 1950 when his parents retired here.
For most of his life he worked as an interior decorator, often working away in London. He revealed that he regularly decorated for unnamed celebrities of the day.
In the UK, a birthday card from the Queen is sent to those celebrating their 100th and 105th birthdays and every year thereafter.
George said that receiving a message from Her Majesty was "very nice of her".
The latest available data from the Office for National Statistics estimates that there are 860 semi-supercentenarians, someone who is aged between 105 and 109, in the UK, of which 140 are men.
And George's secret to living such a long life?