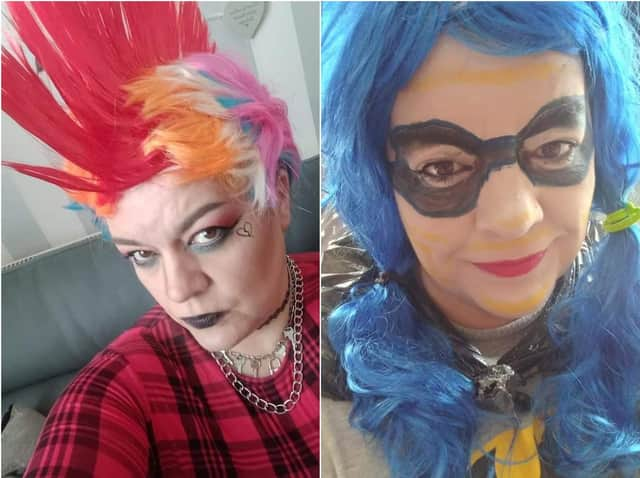 Nicola Nicolson, aka "Mrs Motivator", who is hosting a exercise class on Scarborough's North Bay.
On Monday June 28, from 11am until 1pm Nicola will be hosting the event on North Bay and invites anyone who would like to to join her.
Speak Out hosts three in person meetings a week at the YMCA and also has a Facebook group with over 1,000 members.
Founder Helen Speak said: "We try to give people support and we hope they feel better when they leave than when they come in."
Nicola began as a member of the group and has since taken on an admin position.
Helen added: "She's a warrior and doesn't let anything get her down. She's a real inspiration."
Nicola began her class - which takes place every Thursday at 11.30am - online during lockdown and puts a smile on participants' faces with her wacky costumes.
Members of Speak Out will be taking part in the class on Monday, which has been planned to fundraise to help Helen achieve her aim of making Speak Out a registered charity.
To do this they must raise £5,000, of which they have already raised £3,000.
Nicola will finish the class by jumping in the North Sea.
Helen continued: "We're having our group session on Monday at the beach as well so anyone who is curious to find out what we do can come along.
"Whether you want to join in with the group, the exercise class or just cheer us on, everyone is welcome.
"Some of the members that are coming suffer quite badly with their mental health so it shows how far some of them have come, they wouldn't even speak when they first started coming and now to do something like this in public is brilliant."
The first 25 people or families to donate on the day will be given a token for a free portion of chips from The Tunny Club on Sandside, donated by John Senior.
Sainsbury's Scarborough have also donated bottles of water and fruit for those taking part in the class.
To find out more about the event visit here.