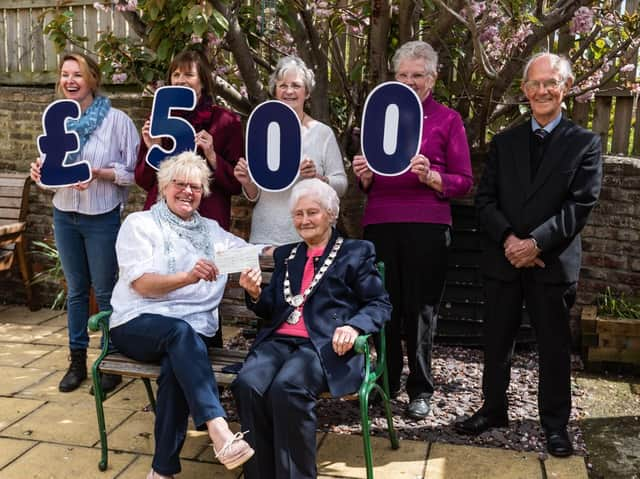 The Rainbow Centre's Trish Kinsella (front, left) receives a cheque for £500 from The Vale of York Oddfellows
Friendship group, the Vale of York Oddfellows has presented Scarborough's Rainbow Centre with a cash boost of £500.
Based on Castle Road, The Rainbow Centre provides support to vulnerable people across Scarborough.
The Centre now helps over 500 people per week and provides assistance on a diverse range of issues.
They support people with clothes, a food bank, monetary advice and a safe place to rest.
Despite government restrictions preventing the Oddfellows Branch, which includes members from all over the Vale of York area, meeting face-to-face, its members were determined to continue providing support for local good causes.
Peter Needham, Branch Secretary for the Vale of York Oddfellows, said: "The pandemic has meant that the Rainbow Centre has struggled to open up for its drop-in sessions, so we're incredibly pleased to have been able to help in this small way as part of our commitment to fundraising for local organisations."
The Vale of York Oddfellows provides social, care, and welfare support to its 500 local members.
While face-to-face meet ups were postponed during lockdown, the Society hosted many online events, including coffee mornings and quizzes.
The local group is now hoping to organise a range of small, outdoor meet-ups and walks, with indoor events hopefully due to return from mid-June.
New members are always welcome.
To find out more and to receive their latest events diary, contact Peter Needham on 01652 655828 or email [email protected]