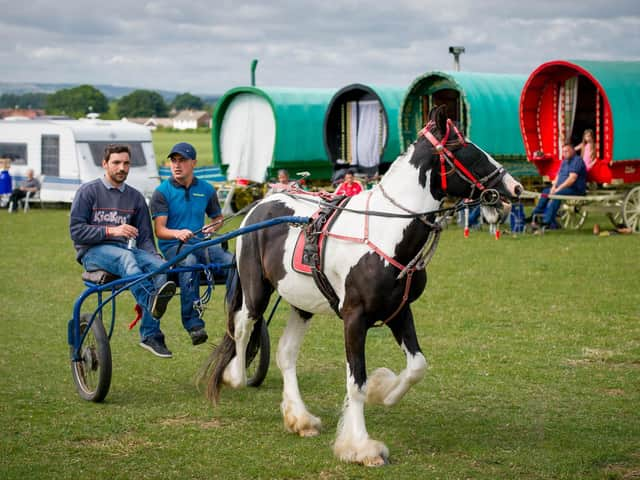 Seamer Horse Fair
The Seamer Horse Fair has origins which date back to a Royal Charter issued in November 1382 by Richard II.
However, it was not until the 1900s that the fair became associated with travellers.
Since 2009, the fair has been held in a field off the B1261 between Seamer and Crossgates and the number of those attending the fair has fallen sharply.
Previously, travellers had been known set up camp on parcels of land around the area which had led to conflict with residents of the village.
The scheme was back before the Scarborough Council's planning committee today after the authority agreed to quash its decision from last year to grant use of the site for 14 continuous days a year for three years following a High Court Challenge.
The case, brought by resident Tony Ingham who lives near to the site, said planning officers had not informed councillors during the previous planning meeting that they could grant permission for fewer than 14 days a year.
The council agreed to quash the decision before the case went to a judicial review and pay Mr Ingham's legal costs.
The 2020 horse fair was cancelled due to the pandemic and Scarborough Council submitted a new planning application to get a permanent change of use for the land.
The committee was told that the 14 days of use had been requested as it is needed to include the time taken by setting up and clearing away the site after the horse fair.
The council stated that setting up the site is likely to take seven days before travellers occupy the site for four days. That then leaves three days for the land to be cleared.
The committee also heard the council had taken a fresh look at 45 council-owned sites as well as contacting private landowners to see if another suitable location for the fair could be found.
Again, it was concluded that the current site was the best one, a decision backed by North Yorkshire Police and the RSPCA.
Mr Ingham addressed the meeting of councillors saying that the location of the fair was having a "significant adverse effect" on himself and his family.
He asked the committee to restrict the use of the site to just a maximum of four days each year.
Cllr Theresa Norton said she worried about reducing the number of days allowed.
She said: "I think if we reduce it to a four-day period it could possibly encourage more illegal encampments here and there then we might see more problems."
Cllr Phil Trumper, however, said that he thought a four-day restriction could give residents "peace of mind".
In response, Cllr Jane Mortimer said she would not want to "tie the hands" of the council by restricting the days of use.
The committee approved the use of the land for 14 consecutive days a year.