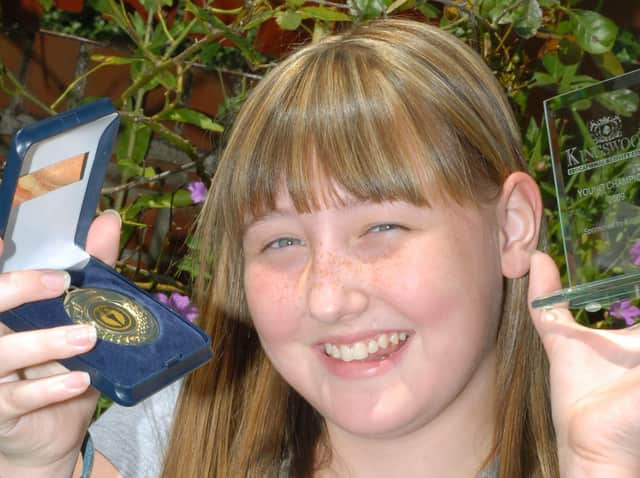 Ellie Othick-Bowmaker. Picture:JPI Media
Ellie Othick-Bowmaker was originally given six months when she was diagnosed with grade four Glioblastoma - a high grade brain tumour - in 2007 but lived for another three years.
Ellie died on Valentine's Day in 2010.
Remembering Ellie - 10 years on, take place at Scarborough YMCA on Saturday January 18 at 7.30pm.
The evening of music, dancing, laughter and singing organised in her honour has been staged by Twilight Productions and David Nicholson.
Ellie's mum Heather said: "The ten year anniversary was approaching and we wanted to do something to celebrate not just what she went through in the last three years but who she was as a person.
"In some way it feels like just yesterday and in others it feels like a lifetime ago."
Over the three years Ellie was ill she spent a lot of time going to see shows in the West End, which Heather said made the entertainment evening a 'fitting tribute'.
She added: "We went to the theatre a lot together, she threw herself into going to the theatre, we went to London 19 times over the three years she was ill and saw 27 shows.
"It became the thing we could do with friends, it was a way for her godparents, my close friends and her friends, to make memories with Ellie."
As well as celebrating Ellie's life achievements, the evening is also a way to raise more funds into research into brain tumours.
From 2010 to 2017, Heather ran a charity called Ellie's Fund, inspired by Ellie's own fundraising.
In 2017, Heather wanted to spend more time with her family and take a step back but still wanted the fund to continue, and so approached the charity Brain Tumour Research and Support (BTRS).
Heather said: "I'd already worked with BTRS and asked if they wanted to take Ellie's Fund on as a charity fund."
This way people can still fundraise in Ellie's name for BTRS, and Heather still has input into how it is spent.
People with primary brain tumours aged between 18-24 can apply for a grant from Ellie's fund if they're eligible.
Heather also does up to 20 hours a week of voluntary work for BTRS and runs the Ellie's Fund recycling scheme, which has 15,000 Facebook followers and has raised £62,000 so far.
The scheme collects items such as biscuit wrappers, crisp packets and make up packaging to raise money for research.
"Although I run it, it's definitely not down to just me, without people collecting the recycling, it wouldn't happen," Heather added.
When Ellie was alive, £4,000 was raised in a single evening by local evening to help her and her family make precious memories, including a trip to Euro Disney.
Despite having to deal with a seven and a half hour operation, six weeks of radiotherapy and 26 months of chemotherapy, Ellie decided she wanted to 'give something back' to the people who had helped her.
"She began fundraising because local people raised a lot of money for us to make a lot of memories as a family.
"She came to me and said I'd like to give something back," Heather said, "Through three events over about two weeks Ellie and her friends raised £12,000 for local charities.
"Everybody got behind her."
In total Ellie and her friends made a total of around £25,000
Heather explained: "It was a focus, it was a positive, it became something to work towards.
"She chose to focus on giving something back."
The YMCA has donated the theatre venue for the evening and everyone connected to the show is giving their time for free and every penny raised is going to BTRS via Ellie's Fund.
A raffle will also be drawn on the evening with prizes including a weekend ticket to Sci-Fi Scarborough for 2 people, a night for up to 4 people at Dalby Shepherd's Cabins, a children's character party, up to 14 children, inc venue, North Yorkshire Water Park tickets and many more.
On the evening two BTRS ambassadors will be available from 6.30pm for information about the charity, support and brain tumours.
Doors open at 7.30pm and the raffle will be drawn during the evening.
Raffle tickets Raffle tickets will be on sale on the night and are already available to buy from:
-Creative Crafts, St Thomas Street
- Jeanette Lee at Jackson's Estate Agents
- Andrea Mason at CPL, Falsgrave Road,