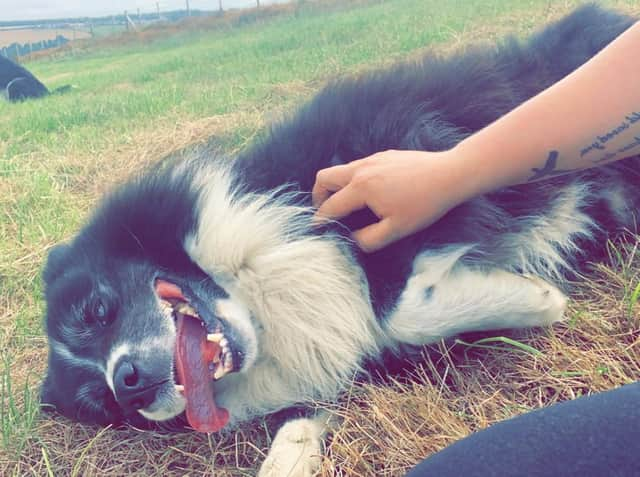 Billy
When Becki-Jayne Sotheran's dog Billy went missing from her home in Roxby, she was quick to jump on Facebook to ask for help finding him.
Billy went missing at around 1pm on Saturday and Becki believes he was taken by a man who had recently delivered a parcel to her house.
Becki, 22, said: "I'd ordered something from an online company a long time ago.
Becki and Sam walking their dogs
"It was delivered by a man who had a strong Geordie accent and he was asking questions about our dogs and saying how lovely they are."
Becki and her partner Sam Lecocq, 29, have three rescue dogs. Sam rescued Billy, the eldest of the three, seven years ago. Billy has arthritis and cannot travel far under his own steam.
Becki, a student veterinary nurse at The Beck Veterinary Practice, Whitby, said: "We went outside and we noticed Billy had gone.
"The other two were barking at the gate as if to say 'Something happened Dad'.
"They kept running halfway down the road and coming back again.
"We thought he can't have gone far. We searched the farm, it's about 200 acres so it took a while.
"We asked the neighbours, we looked in ditches. The little red ball he is inseparable from was still there.
"So I put out an appeal on Facebook. We had over 14,000 shares on social media in four hours. There was a lady at a farm in Loftus who got footage of the van and the registration.
"We rang the company and told them what we thought had happened. Then someone messaged to say they'd seen two dogs being dumped on the other side of the valley.
"We went straight away and found him. He hadn't moved far because of his arthritis.
"There's no way he could have got there himself. The other dog had run off. We'd got Billy back home by 8pm.
"He was sore and worried, but otherwise okay, and we gave him food and painkillers.
"We were amazed how many people shared the post. Dogslost.com were brilliant. They had contacted us and had posters ready within minutes.
"It was the best possible ending. I really don't understand why they would want Billy, he's old and arthritic and he's no good to anyone except us.
"We just want to say how thankful we are and how grateful we are. We were amazed that so many people shared the post.
"What we would say is that if someone is asking about your pet, make sure you find an excuse to follow them out of the house and don't give them a chance to take them."
A spokesperson for the RSPCA said pet theft is a heartbreaking and extremely distressing situation for both pets and their owners who are victim to this – and it believes there should be strong sentences for these types of crimes.
"The maximum sentence for this crime is seven years' imprisonment and we welcome the new Sentencing Council guidelines on pet theft the government recently introduced," the spokesman said.
"We would encourage all dog owners to take extra precautions to protect their pooches from thieves by neutering their pets, ensuring they are microchipped with up-to-date contact details registered, ensuring they wear a collar with contact details embroidered or an engraved ID tag.
"We'd also advise that owners never leave their pets tied up outside shops or alone in cars, ensure their gardens are secure with gates locked, and ensure their pet has a good recall and doesn't stray too far when off-lead on walks.
"Anyone who suspects their dog may have been stolen should immediately alert police, contact their microchip company to register their pet as stolen and inform local rescue groups, vets, dog walkers and neighbours."
The Dogs Trust said demand for dogs was at an all-time high and research had shown that prices for some of the UK's most desirable dog breeds were at their highest in three years, with the costs for some dogs increasing month on month since lockdown began.
Tips to keep your dogs safe
- Don't leave your dog outside a shop on his own or in a car alone.
- Teach your dog a reliable recall for when you are out walking.
- Check your garden to make sure it is secure and if you have a gate then fit with a lock.
- Neuter your pet as this can reduce the likelihood of roaming.
- Make sure your pet is wearing a collar with an up-to-date ID tag and that it is up to date.
- Microchip your pet and keep the details up to date so that if your pet does go missing or is stolen then there is a higher chance they can be reunited.