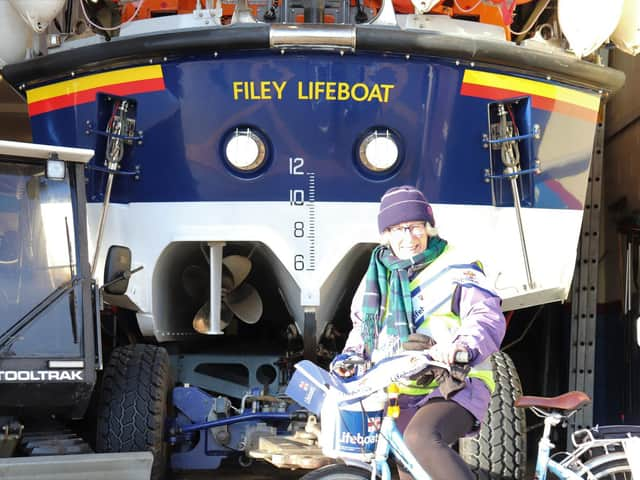 Stephanie outside Filey Lifeboat station.
Stephanie was inspired by Captain Sir Tom Moore which is why she decided to do 100 rides, and it is the first time she has challenged herself to raise money for charity.
She said: "I am so thrilled to have raised such a lot of money. Through rain and wind I made each lap count and it was so lovely to meet some new people along the way who would stop me and donate, or wave to me from across the beach. It was so encouraging and really spurred me on.
"Filey Lifeboat is very special to me and it is also very special to all the people of Filey. I haven't been able to work in the shop since the pandemic as I was shielding until August and of course because the shop had to close. So I thought, right, what else can I do to make a difference."
Stephanie crossing the finish line.
Stephanie was met on the beach by crew members of Filey Lifeboat along with representatives from Retirement housebuilders, McCarthy and Stone who stepped in to support Stephanie, donating the final £140 she needed to reach her target.
Tina Morrell, Marketing Executive for McCarthy and Stone said: "Stephanie is such a fantastic example of someone who leads an active retirement and gives back to the community of Filey. Hearing how close Stephanie was to reaching her target and knowing how difficult it is for charities at the moment where they haven't been able to raise funds in the usual way, we were glad to help and to congratulate Stephanie on such an achievement."
Anyone wishing to donate to Stephanie's cycle ride can by visiting: www.justgiving.com/fundraising/stephanie-luxton1
For more information about Retirement Living in Filey please call 0800 201 4811 or visit: https://www.mccarthyandstone.co.uk/retirement-properties-for-sale/chantry-gardens-filey/