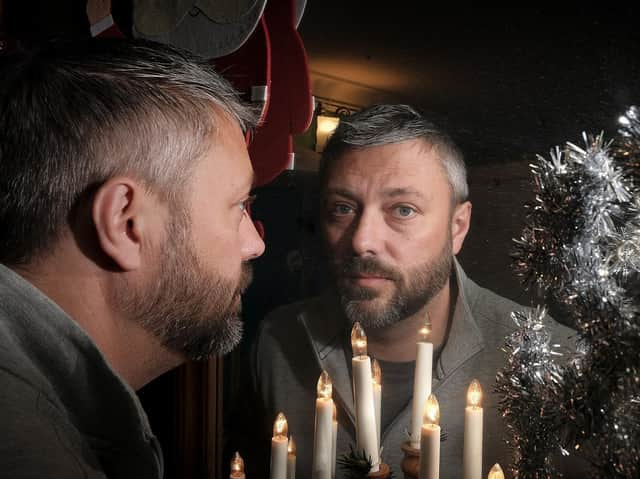 Damon Hotchins of Escape Room, Scarborough
Neil Arnott and Damon Hotchin, of Escape Rooms Scarborough, have spoken to The Scarborough News about the impact Covid-19 has had on their business and their plans for the future.
The pair set up the popular family attraction on Vernon Road three years ago, and have rapidly developed a series of themed rooms.
Participants are "locked" in a room with a limited time to solve a series of puzzles, riddles and clues to successfully complete their chosen adventure and win the game.
60 minutes to save Christmas? No problem.
In order to make the games as Covid secure as possible, arrival times have been staggered, teams are asked to use hand sanitiser on arrival and each room is sanitised using a fogging
machine between each use.
Neil said: "We know we're one of the safest activities you can do. We can take teams in groups of six and be socially distanced all through.
"We're fortunate that our business model allows us not to be that affected. We've just got to do a bit more cleaning.
Can you solve the puzzles in the time allowed and escape the room?
"People seem quite keen to get back to doing something fun. We did wonder if people would still pay to be locked up with each other, but it's been just as busy as normal.
"We feel like it's becoming a bit of a thing. It is something the whole family can come and do – it stretches the brain. We get teams returning each year now as a holiday treat."
Escape Rooms Scarborough was developed after Neil and Damon met at a murder mystery event Neil had organised and Damon came along as one of the actors.
Neil had already started to run pop-up escape rooms and after a random conversation between the two, they decided to see what they could do together.
They found the perfect premises on Vernon Road, and set about transforming rooms into Sherlock Holmes' flat, a wizard's study and a fortune teller's parlour.
Asked if they have a favourite room, Damon said: "We can't say we've got a favourite room. You just need the right team in any room. The rooms themselves are fantastic."
And if visitors get stuck, the pair are on hand to offer a helpful hint. Damon said: " An experienced team should be able to do it all by themselves. But realistically only 1 in 100 go through with no clues, or almost no clues."
Neil grinned and said: "The knack is timing the nudge so it doesn't descend into bloodshed."
Early next year will see the introduction of a pirate themed escape, but the latest room to be unveiled is the spectacular 60 Minutes to Christmas, where a wicked elf threatens to destroy Christmas and participants must save it for everyone.
Damon said: " We spend a lot of time on each set to make the experience as immersive as possible. We wanted it to be as realistic as it can feasibly be."
They are now looking to build on the additional things the Escape Rooms can offer including, room escape games that can be played at home, and themed merchandise.
They hope that the 40-seat cafe in the basement will lend the room to corporate events when more normal times return. Damon said: "We do a bulk discount for work nights out.
"If companies are looking for something to do with their staff, we can split participants into teams of six and stagger arrival, video and start times.
"Scarborough College bought 26. There are people thinking that we can't do it, but we can. Come and try us out and have a good experience."
Vouchers for the escape rooms are available on the company's website www.escaperoomscarborough.co.uk, where you can also find out more about the rooms and Covid policies.