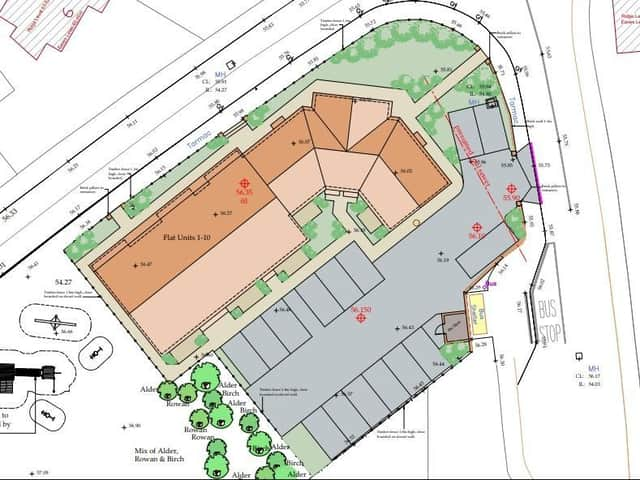 Plans for the Highfield Road flats.
The plans for the land off Highfield Road were originally granted planning permission as part of a wider development in 2009 but the flats project never progressed.
Earlier this year, a new developer applied for fresh planning permission from Scarborough Council following changes to building regulations.
Yorkshire County Homes will build the block of one and two-bedroom apartments on the site.
The planning submission stated: "The site is part of a larger mixed residential development and a previous scheme of 10 flats within this development was approved on the same area of land.
"However, during the intervening time between submission approval of the previously approved scheme and actual development of the site, special standards and advice for dwellings has changed.
"Our clients have therefore created a new scheme and are pleased that the apartment areas have been substantially increased, improving the quality of living space.
"This has triggered the requirement for a new application."
There will be four two-bedroom units, with the rest just having a single bedroom.
Due to the Covid-19 pandemic, Scarborough Council's planning committee could not meet to vote on the plans so on Friday the authority's chief executive Mike Greene, following advice from officers and planning councillors, granted the scheme approval using executive powers.