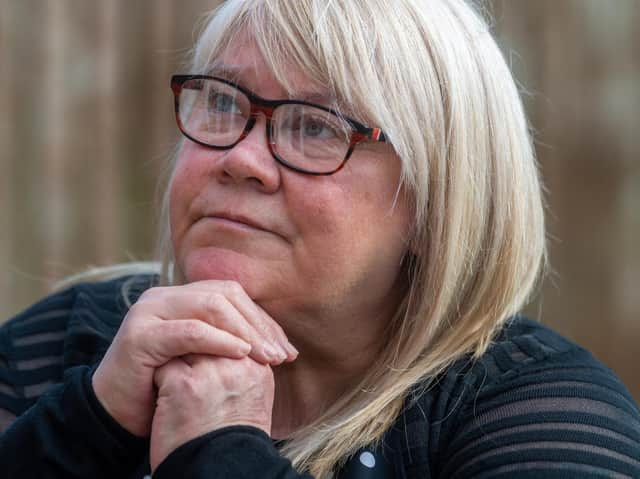 Lorraine Wilby
After being told nine months ago that she had nine months left, grandmother Lorraine Wilby is urgently trying to raise the funds she needs for the operation which could prolong her life, following a diagnosis of a rare and incurable form of eye cancer that affects only 600 people in the UK.
Grandmother Ms Wilby, from Wrenthorpe, Wakefield, was told she had ocular melanoma in 2018 after suffering from a series of violent headaches and blurred vision, and subsequently needed to have her left eye removed.
Since then, she has discovered that the cancer has spread through her blood and to her liver, resulting in eight separate tumours.
But the treatment which is not currently available on the NHS has a strong chance of prolonging Ms Wilby's life, with the 56-year-old desperate to see her daughter Lauren, 22, marry in October and give her away at the wedding.
She is now in a race against time to raise the remaining funds, after so far amassing £37,500 of the £40,000 needed for the first round of surgery, and has issued a desperate plea for any benefactors or local businesses to help.
"I had scans in November and January which both showed growth, then another scan at the beginning of March which also showed growth," said Ms Wilby.
"The biggest lesion has grown by about 200 per cent in 12 months."
She added: "I have one daughter, Lauren, and she is due to get married in October. I've got to be there.
"I'm giving her away as well so it is incredibly urgent."
The treatment Ms Wilby needs - Chemosaturation Therapy - works by cutting off the liver from the body's blood supply and treating it with a round of intense chemotherapy. The blood from the isolated liver is then directed through an external filter system that removes most of the toxic side effects of the chemotherapy before the cleaned blood is returned to the liver.
Each round costs £40,000, but it can take up to six treatments for the procedure to work effectively, so in total Ms Wilby may have to raise up to £240,000 to keep her alive – a prospect which she has described as "very frightening".
"It really is like being given a death sentence," she continued.
"It doesn't seem right when there is known to be effective treatment but it is not being made available. I just hope by the time I start my treatment it is then made available on the NHS otherwise I will need to raise much more money, which is a very frightening prospect."
Anyone who wants to help fund the treatment Lorraine needs can visit her JustGiving page here. She has also raised £1,000 in her efforts so far for national eye cancer charity OcuMel UK by climbing Mount Snowdon.
Jo Gumbs, National Director of the charity, said: "Few people can afford this treatment easily and the extra stress is heart-breaking. We urge NICE to review its guidance and recognise this treatment as a safe and effective treatment for people with this condition."